3 years ago · 5 min. reading time · visibility ~10 ·
Paul Walters on Writing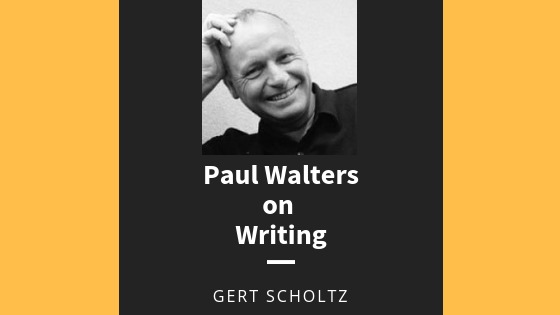 On BeBee we have come to know Paul Walters as an eminent travel writer. From all parts of the world, he gives us a tantalizing glimpse of people and places. Perhaps lesser known is that Paul is also an accomplished novelist and a successful former advertising copywriter. His novels include Final Diagnosis, Blowback, Counterpoint and Scimitar, and he co-founded and ran Logan Meo Walters for twelve years. Paul says in his online profile: "I have been a writer all of my working life." Interested to learn more of Paul's writing, he kindly agreed to take the time for an interview.
BEGINNINGS
Gert: You mention in a blog: "Looking back, aside from copywriting I have always been a compulsive writer, scribbling journals, tapping out intense, verbose letters to absent friends as well as writing long, clumsy pieces that would, over time be consigned to the bonfire or left to yellow in a long - forgotten drawers. When did you first become aware that you have a knack for writing? Were there specific events at school or university that prompted you to a writing career?
Paul: Actually, thinking back, I was always involved in writing when I began editing school magazines and then later at university when my scribbles became more 'politicized' writing content for the University magazine. As a traveler, I keep copious notes of daily events on my journeys. I have always had the philosophy of staying in touch with old friends and even today I hand write letters to these same people.
TRAVEL WRITING
Gert: When you do a travel article, do you write it while traveling, or do you only take notes and then put all in an article once you get home?
Paul: I take notes mainly, things I see, snippets of conversations overheard in coffee shops or bars. Only when I come to write a piece do I "untangle" these random thoughts and attempt to craft them into coherent sentences and paragraphs.
FAVORITE NOVELISTS
Gert: Which novelists do you particularly admire or enjoy reading?
Paul: Tough question Gert as there are so many. My reading habits are varied depending on my moods. Prior to writing a book, I will often re-read authors like Douglas Kennedy, John Le Carre or Michael Ondaatje. I switch genres depending on my moods, so an Ian Rankin could be closely followed by Simon Winchester or Anne Enright or Kate Atkinson. I get through about a book a week.
WRITING PLACES 
Gert: Do you find you need a particular place to write well, or do you jot down those wonderfully descriptive sentences wherever you are?
Paul: I do particularly like writing in restaurants especially at lunchtime. There is something esoteric about writing fiction in a crowded place surrounded as one is by strangers. This is where I tend to "steal" people to remodel them as characters. Of course, the process is assisted by copious amounts of red wine or whatever else is on offer!
PLOTTING AND IDEAS
Gert: When writing a novel, do you plot the whole story and then sit down and write it? Or do you have a vague idea about the characters and storyline and invent the rest as you write it?
Paul: To have a novel one has to have an idea. Then the process begins. By the end of the process, my walls are festooned with post-it notes. Arrows lead to all sorts of places linking characters to scenes. I have always been a great admirer of JK Rowling and her character thread process whereby a character in book two suddenly pops up in book five as an integral part of the plot. The novel should always be crafted as a three-act play. One cannot deviate from that strategy otherwise the writer finds himself or herself in all sorts of trouble!
THE TIME IT TAKES
Gert: You wrote your first novel "Final Diagnosis" in 39 days, obtained a publisher in a week and the novel was released four months later. Then within a year, a further three novels followed. That is an extremely fast pace! How long does it take you to complete the first draft of a novel? And how do you come up with ideas for the plot and characters?
Paul: The first part of your sentence regarding the 39- day novel is correct. As for the follow-up books, this was certainly not the case. Blowback was pretty technical and took nine months to write and a further four months going through a difficult edit. Most books take if I don't procrastinate or fall into sloth, four to six months to write, four months to edit and a further two months to publish. One burns through one's advance pretty quickly. (I tend to invest mine wisely in alcohol and recreational drugs leaving not much left after a couple of months). The next pay cheque will be about four months after the book is released so there is a long time between drinks! I have considered a career in prostitution but to date, that particular profession has been a complete and utter failure.
SPACING AND PACING
Gert: In a blog, you say: "Writing for a living is indeed a curious business when one's workspace is but a short commute from bedroom to study without the tedious chore of donning suitable clothing applicable to an office environment." How do you plan your days? Do you work to a certain word count? And how do you keep going during what must be a long stretch when you write a novel?
Paul: My sign off on all of my piece contains the phrase, "when not cocooned in sloth and procrastination" and this is perhaps my downfall. Magazine editors are continually driven to despair or drink or both when awaiting an article from me. I more than often meet the deadline with just seconds to spare. I tend to lie around and think and sort of compose a piece in my head and then when the deadline is fast approaching type like a demented demon until the piece is finished. I sit on it for a day and often will tear it to bits and rewrite the piece again before sending. It's the adrenalin that does it for me Gert! This is a technique I used as a copywriter driving unloved creative directors to an early grave.
DAVID OGILVY'S RULES
Gert: Paul, you worked for Ogilvy and Mather once, and say that you admired David Ogilvy. What specifically did you learn at O&M about the art of copywriting?
Paul: Each agency, Saatchi's, Young &Ribican, BBDO and Ogilvy's and others taught me many things. It was, however, David Ogilvy under whose tutelage I grew into what I considered to be a competent copywriter. I followed (and still do) his ironclad rules.
1) Never treat your audience like inferior beings.
2) Never, never, ever use reverse type. The human brain cannot absorb text when written in white type on a black background. It is a fireable offense.
3) No more than five words to be used on a billboard.
4) A 30-second television commercial must be written along the same lines as a three-act play with just 27.5 seconds to cover character development, plot and a rousing conclusion.
5) Long content works better than short snappy sentences.
6) Surround yourself with people who are a lot cleverer than yourself. If you do this, you will become a giant. If you surround yourself with people lesser than you, you will become a dwarf.
That last piece of wisdom stood me in excellent stead when I owned my own agency.
THE THRILL OF IT
Gert: Many thanks for taking the time for this interview Paul - I do appreciate it. The last question: what is the greatest satisfaction you get from being a novelist and travel-writer?
Paul: Meet an attractive woman in a bar who asks you what you do for a living and, when you answer, " I'm a writer" her eyes will sparkle, her demeanor will border on adoration and then you can regale her with tales that with keep her enthralled for hours. Say you are a plumber and seemingly details about pipes and blocked toilets don't have the same appeal! Seriously, I do get a buzz when wandering around a resort swimming pool and I see someone reading one of my books. It's a thrill. With regards travel writing, if my scribbles help anyone to have a better experience in a foreign land then I feel I have done my job.
Writing…..it's a sexy profession.
You have no groups that fit your search