1 year ago · 2 min. reading time · visibility 0 ·
Homo Panicus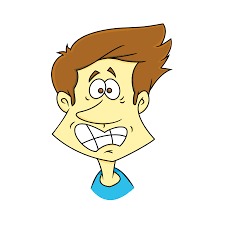 We have arrived at the defining moment of the evolution of mankind. Behold, Homo Panicus! Allow me to share this special moment, the emergence of the clowning glory of our several hundred million year path of evolution, with a deep dive into the core of his being. And while I shall refer to Homo Panicus in the masculine (for ease of narrative) the gender term should include the male, the female and all forms within that spectrum. For Heaven forbid that I tread upon politically incorrect toes at the outset and render my humble words discredited.
Homo Panicus (HP) is very afraid ... of everything. He is afraid of loss, not being recognized, not possessing, being dispossessed, not being adored, not being 'liked', not having enough for tomorrow, injury, illness and death. HP is awash in adrenaline and cortisol triggered from his fear centers – the pair of amygdalae. Now the sea of adrenaline is a great help for scaling a ten foot wall when being pursued by a lion or tax man. But when the fear emerges from some dark abyss, well then we have a most unfortunate situation. Because a clearly discernable neurochemical process is set in motion.
Firstly the adrenaline brings the rational working memory, the sense of reason of the pre-frontal cortex, to a grinding halt. Without a sense of reason HP becomes dumb and can no longer mediate or modulate fact or emotion. He is effectively a reflex fight-flight-freeze preparation. Reflectiveness has been replaced by reflexiveness. Following on from the capitulation of a sense of reason, the sea of adrenaline suppresses the centre of reward (the nucleus accumbens) and the dopamine that it secretes. Inevitably then the sense of gratification emerging from reward and achievement begins to rapidly wane. Finally the last line of defense, the oxytocin mediated place of empathy trust and belief, is suppressed leaving us with a self-interest obsessed, ungratified, fearful amygdala preparation devoid of empathy and sensitivity. And just when you thought that that was all, the plot sickens. For one is reminded that the overdose of adrenaline spurs on unchecked inflammation which itself may become a precursor to a multitude of maladies including heart disease, cancer and neurodegenerative conditions, among others. And to put the final nail in the proverbial coffin, this plot conspires against us by the raised cortisol suppressing our immunity.
Unfortunately it doesn't end there either. The raging amygdala of the HP is contagious. Much more contagious than the coronavirus. Once the threshold of activated amygdalae is surpassed there is no stopping the activation of many other unchecked amygdalae. And with the absence of the sense of reason of accompanying frontal lobes, the exuberant collective of florid adrenaline fountains are fanned by the mass and social media into a mass frenzy.
Somewhere in the sea of panic, the obligatory quarantines of incarceration and the bun-fights over toilet paper roles in the supermarkets exists a virus which is no more virulent than seasonal flu and which our immune systems have been shown to be more than adequate in neutralizing. But HP with his characteristic dumb, panicky facies has emerged with his date with destiny. Because folks HP had already arrived of age quite a while ago, fully programmed as a dumb, reflex zombie fanned by the media with its fake news and other malevolent agenda's. HP was the powder-keg awaiting someone or something to light his fuse. And here we are.
We bear witness to Homo Sapiens' degeneration into Homo Panicus because technology, consumerism and its accompanying values pried us free of our wholesome human heritage - the heritage and its values supported by the suppressed centers of our brains: The ability to reason for ourselves; sensitivity and empathy for others and the greater environment; contributing value to self, others and the environment and thereby making them better than they were before we engaged.
One can only hope that pockets of Homo Sapiens remnants may re-connect and build from the bottom up, a new order based on previously inherited wholesome values together with the best of modern technology. Indeed there is much work to be done and I remain optimistic that we will emerge from the ashes as Homo Integratus. Until then though, best to lie low, escape the hordes and tend your own acres.
Copyright reserved - Ian Weinberg 2020
Reference
https://www.bebee.com/producer/@ian-weinberg/another-golden-ratio

You have no groups that fit your search