4 years ago · 3 min. reading time · visibility ~10 ·
A stillness in the eye of eternity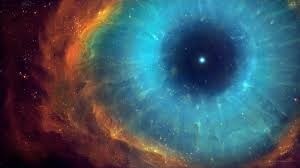 This buzz represents an eclectic mosaic of several of my previous articles. I have been inspired to reproduce this piece as a result of the insightful and thought-provoking articles and comments by the likes of @Ali Anani  @CityVP Manjit @Sara Jacobovici @Harvey Lloyd and others.
The stream of human knowledge is heading toward a non-physical reality. The universe begins to look more like a great thought than a great machine.  - Sir James Jeans
The inescapable truth is that we and all other physical entities, span the physical-energy divide. In this way we are all connected and have been, since the beginning of time. And as we evolve and develop ourselves, we are contributing to the evolving, connected, energy collective and at the same time are influenced by its eternal flux. We are, each one of us, unique co-creators and at the same time, holograms of all that is. We and our entire collective environment are manifestations of the zeitgeist of the moment!
In absolute terms therefore, we individually control very little of our environments and indeed, our lives. Most of our choices are determined by our unique individual history, our nature-nurture heritage. This incorporates the people, the places and the social dynamics of our formative beginnings. Thereafter we engage with people, places and circumstances, perceived through our subjective world view and exercise our choices, again determined by our subjectivity. From the experiences derived from these engagements we fine-tune our subjective world view. However the powerful influences of heritage still prevail, albeit minimally dampened. The whole process therefore conforms very much to Lorenz Chaos Theory: The life narrative is determined very much by its historical starting point but the final outcome is modified by the multiple influences that occur along the life path.
We also live in a psycho-social collective in which there are multiple inputs from many other subjective beings. Everyone gives voice and action to their subjective needs which reflect their individual origins in time and space. And so we encounter a pivotal mediator and dampener of our subjective needs prerogative – we all need to co-operate and conform to ensure that the viability of the system prevails in terms of appeasing the needs of the collective. If we were to apply the best of Complexity Theory to this dynamic, we would ring-fence central 'sacred' rules such as respect for life and property and allow the system to self-regulate. But that applies to an ideal world. We don't live in that space.
Our collective is subject to the interference by others. In summary these influencers include regulating governments, individuals and organizations with material resources and the popular media which invariably become the mouthpiece of the resource-based organizations. In this way, the freedom of the collective to self-regulate is significantly compromised. But more importantly, the subjective world view of the individual members is influenced by the media who often disseminate partial truths or untruths and thereby manipulate an entire belief system.
The challenge for each one of us is to be able to transcend this common, collective homogenate of functioning mediocrity as well as our personal heritage constraints (limiting beliefs) and contribute our unique co-creativeness.
Our right hemisphere-based sensitivity, emotional integration and creativity are essentially cues which prompt and guide us through the convoluted path of life. Much of our emotions reflect the hunger for reward and gratification and the fear of losing it. If on the other hand we respond to the emotional prompts with reflection and reasoning, we achieve clarity. This evolving clarity and associated awareness of ourselves and the environment at large incorporates a comprehensive integration of people, life situations and all the other elements which comprise the extended environment. It also necessarily incorporates an appreciation of the life cycle of all things together with logical philosophies relevant to the dynamic. The hunger for reward and gratification as well as the fear of loss is subsequently diminished as we embrace a greater context.
The appropriate language required for this endeavour is dialogue. Dialogue was defined comprehensively by theoretical physicist David Bohm, as a non-judgemental communication incorporating sensitivity to the point of 'being the other'. Only then do we formulate an opinion and make our judgement which now more authentically portrays the landscape. This is the opposite of counter-productive judgementalism which is censorius, condemnatory and disparaging.
Once clarity is achieved we inherit calmness. Calmness evolves from a respectful engagement with the environment which has incorporated sensitivity to other individuals, together with a value contribution (making something better than it was before you engaged with it) to other's as well as to the extended environment. It also feeds on evolving clarity and ongoing awareness.
Well, there's enough reason to pause regularly, find a quiet spot, clear the toxic thoughts from your mind, enhance awareness, become more sensitive, gain clarity and calmness and I would, in addition, throw in a generous helping of gratitude. Then rise with courage and contribute the value of your unique co-creativity.  And if indeed your subjective perception of yourself and the greater environment is synchronous with the zeitgeist, your contribution will be supported and gain increasing traction in accordance with Victor Hugo's dictum: "Nothing is more powerful than an idea whose time has come."
                                                           Copyright reserved - Ian Weinberg 2017
"
You have no groups that fit your search