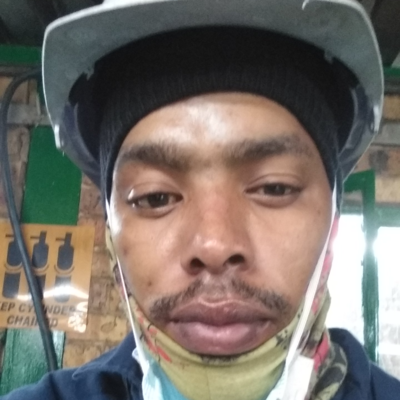 About Kealeboga Daly:
Good morning hiring manager, hope this email finds you well.
I Kealeboga Daly trust that I would be a great fit for the Welderer position. I bring a positive ambiance, attention to detail and I am a quick learn.
It's would be highly appreciated to have this application taken into consideration.
Experience
I was groomed by the marine engineering and maintenance ( Armament Corporation of South Africa : Dockyard ) into the artisan welder that I am today ,thus do think I'm fitting for the vacancy advertised.
 I have been a welder contractor in industries like Marine, automotive , construction and most recently engineering maintenance and Refinery plant maintenance.
Even self employed while I'm still looking for a more stable employment, since there is so much I need to do.
Well versed in the following technical skills.
 Sound Welding of all given metals in any given position as per WPS / WQR standards while adhering to OHS procedure and specifications. Mig / Mag. Tig / Argon & Helium. SMAW / MMA / Arc. Flux- core. Oxy- acetylene Welding / Brazing / Silver & Gold soldering / Gas cutting & shaping of metals. Heat treatment of different metal Grades. Purging of Fuel and Stainless steel pipes and X- Ray sound Welding in 2G, 5G & 6G positions. Interpretation of technical drawings. Proficiently in the use of flame cutting gas apparatus, including plasma cutter, grinders , bending ,notching, drilling, and cutting machinery. Basic lifting techniques. Ability to work at heights & confined spaces. Inspection on finished products.
It would be highly appreciated to have this application taken into consideration.
Education
ARMSCOR Dockyard  ( Cape Town  
Welder (Apprentice)        July 2013 – December 2016
Duties :
       Responsible for carrying out all metal & welding maintenance on Naval vessels and Submarines.
Carry out welding on different machines as per WPS(Welding Procedure Specification) while adhering to OHS ( Occupational Health and Safety)
Proficiency in the use of cutting, bending, rolling and lifting equipment machines
Use of power tools and hand tools 
Heat treatment of metals
Welding profienciecy using different processes as per WPS( Any given metals in any position)
Inspection of finished products
Purging and welding of fuel pipes (in any position 2G, 5G, 6G)
Removal and insertions of Naval vessels section 
Housekeeping  
Reason for Leaving: End of Apprentice program
Professionals who compete with Kealeboga
Professionals in the same Manufacturing / Mechanical sector as Kealeboga Daly
Professionals from different sectors near Johannesburg, City of Johannesburg Metropolitan Municipality
Other users who are called Kealeboga
Jobs near Johannesburg, City of Johannesburg Metropolitan Municipality
---

GJM Ultra Holdings (Pty) Ltd

Germiston, South Africa

Job Specification: · Contact Center Agent · Responsibilities: · Strong communication, both written and verbal. · Strong telephonic skills. · Great active listening skills. · Exceptional interpersonal ...

---

Tower Group

Johannesburg, South Africa

Contract

MINIMUM REQUIREMENTS · Grade12 · Minimum Diploma, preferably a degree in design or desktop publishing or equivalent · Qualification and/or experience in graphic design · English language proficiency ...

---

eSoft Development and Technologies

Johannesburg, South Africa

Scheduling of meetings · Minutes of the meeting scribing and distribution · Coordinating tasks of the project plan · Writing of update reports for the project schedule · Create and update work package ...