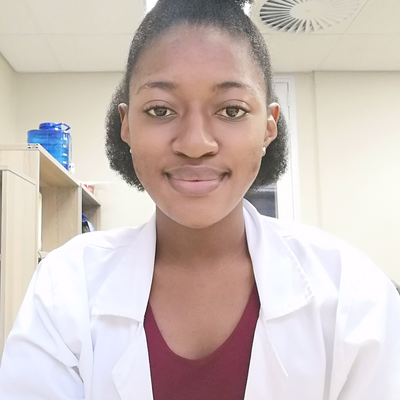 About Jemima Luis:
Chemical Engineering graduate possessing fundamental analytical and
technical problem-solving skills. A hard working and passionate job seeker with
strong organizational skills eager to secure an entry-level position integrated
with process/chemical engineering opportunities. Being adaptable and eager to
learn makes me a versatile individual who works well in a team setting always
ready to help the team achieve company goals. I have thorough lab work and research experience, python, excel, aspen simulation and LaTex text editor proficiency. I specialized in environmental studies and waste water treatment. The ability to communicate effectively in writing and verbally is a key characteristic of
mine, as is creativity and attention to detail.
Experience
Department of Mathematics , University of Pretoria
Calculus 258/146 teaching assistant (Mar 2022 - Dec 2022)
Grade student papers and assist with homework problems.
Water Utilization and Environmental Engineering Division , University of Pretoria
Student researcher (Jan 2022 - Feb 2022)
Synthesis and utilization of membrane technology for the removal of
pharmaceutical products from waste water.
123 Tutors
University mathematics Tutor (Sep 2020 - Dec 2021)
Developed students' ability to prepare and revise for exams by working
through practice tests and brainstorming curriculum modules.
Department of Chemical Engineering , University of Pretoria
Assistant student researcher (Jan 2021 - March 2021)
Organized research workload and activities using appropriate materials,
facilities and equipment. Experimental procedures included gel bead formation , microscopic analysis and freeze drying.
Education
University of Pretoria
BEng Chemical Engineering (Jan 2019 - Dec 2022)
Cumulative GPA : 73%

Pretoria High School for Girls
National Senior certificate (Jan 2014 - Dec 2018)
Subjects: English Home language(80%), Mathematics(93%), Afrikaans
1st Additional language(87%), French 2nd Additional language(90%),
Physical Science(91%),Life Science(90%),Life Orientation(92%),Advanced
Program Mathematics(80%) .
Professionals in the same Engineering / Architecture sector as Jemima Luis
Professionals from different sectors near Pretoria, City of Tshwane Metropolitan Municipality
Other users who are called Jemima
Jobs near Pretoria, City of Tshwane Metropolitan Municipality
---

Ampath Trust

Centurion, South Africa

Advert Reference: · P5276 Supervisor: · Central Data Capture - Centurion · Job Title: · Supervisor: · Central Data Capture - Centurion · Job Grade: · Grade 11 · Closing Date: · 2023/02/06 · Position A ...

---

University of Pretoria

Pretoria, South Africa

RESPONSIBILITIES: · The strategic, academic, leadership and transformation of the Department; · Promoting, planning, organising, accreditation and managing of academic and research programmes and the ...

---

Edge Executive Search

Randburg, South Africa

Permanent

Responsible for the formulation of the long-term Group Category strategy and planning that provides an operating framework for the category team · Oversee and evolve the category team's commodity sour ...