Pop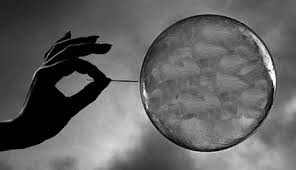 Sorry to pop your bubble but there's no justice in the world. Never has been and never will be. You see, the most important determinants that went into making who you are and what you do were made without consulting you – your nature-nurture heritage. And before you could shout out "it's not fair" you were let loose as an independent soul into the big bad world.

They told you that the things to strive for were money, influence and fame - that this would ultimately determine your level of happiness. To get there you needed to get smart by studying and then working hard. And so you studied and worked your butt-off in what became the tedium of daily life. But only a few made heaps of money and even less became famous.
And every now and then there was a downturn in the economy or in your industry or you lost interest in what you were doing and blew out. Sometimes you recovered but sometimes you just couldn't get traction again. You moved on to another place in another space and kick-started the engines but you really just ticked over on two of the four cylinders for a long time ... sometimes for the rest of your life. But sometimes providence smiled upon you and you lived happily ever after, most of the time.
Yes indeed, many good souls died young and poor while many nasty buggers became rich and famous and lived long soulless lives . But there were also some decent folk who became rich and famous and some pretty evil creeps that died young. And many of the rich and famous were not very happy, although many were. And not all the paupers were hopelessly unhappy, although many were.
Then it dawned on you that you couldn't make successful people out of unsuccessful people, most of the time, nor could you create leaders out of those that just couldn't lead, irrespective of what the coaches said! You couldn't change those who couldn't or wouldn't change. You also couldn't make the unhealthy, healthy. And then you learnt how to prolong life for those that wanted to prolong life but also for those who had given up on life. You inflicted life upon their wretchedness and prevented the candle from gently blowing out in the wind.
And so fellow mortals let me share my peace with you. We are who we are and will be so until our end. Seek not afar or too deeply within, for your salvation lies in simple things. Be curious and embrace that which gratifies you. If gratification is only about money and fame or even about killing then you will live by it and die by it and so it is done, for the die was cast a long time ago. My hope for you is that deep within your narrative a subtle light of awareness glows, that gratification is sweeter when we connect with life, support it and nurture it. Then shall the light illuminate your path and the paths of many others.
                                                               Copyright reserved - Ian Weinberg 2017"
You may be interested in these jobs
---

Salesforce Recruitment

Cape Town, South Africa

A reputable, established Offshore Property Investment House based in Century City, Cape Town are expanding their team.This is your opportunity to offer a unique, capital growth investment opportunity ...

---

Corteva

Potchefstroom, South Africa

Description: · GROWING WHAT MATTERS STARTS WITH YOU · Corteva Agriscience, the world's first dedicated agriculture start-up, serves to enrich the lives of those who produce and those who consume, ensu ...

Found in: beBee Professionals ZA - 1 week ago

---

beBee Professionals

Botshabelo, South Africa

Illustration Services

Freelance

BeBee Professionals is looking for a Technical Illustrator to join our team. The successful candidate will be responsible for creating technical illustrations for a variety of projects. · The ideal ca ...