What You Should Expect From a Set of Plans You Submit to Council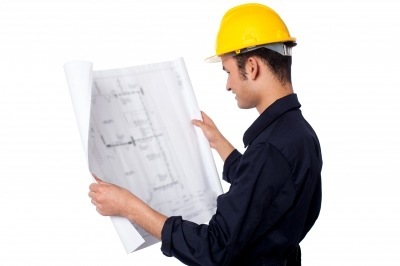 Recently I've seen some awful plans that were submitted to Council and will never be approved...  I hope this article helps you to make an informed choice when picking an Architect/Designer - it's vital to take a look at a sample of their plans and check that they are registered with SACAP (the South African Council for the Architectural Profession). 
What Should My Plans Look Like?

Once a set of plans is submitted to Council it becomes a legal document so it's very important to get it right.  I always submit very detailed plans to Council - years ago I was told to submit Construction Plans. 
Here is the full set of plans for the project I did recently (Sections & Elevations above).  Page 4 (sectional elevations) is only required for Building Line Relaxation.
Page 1 - Site Plan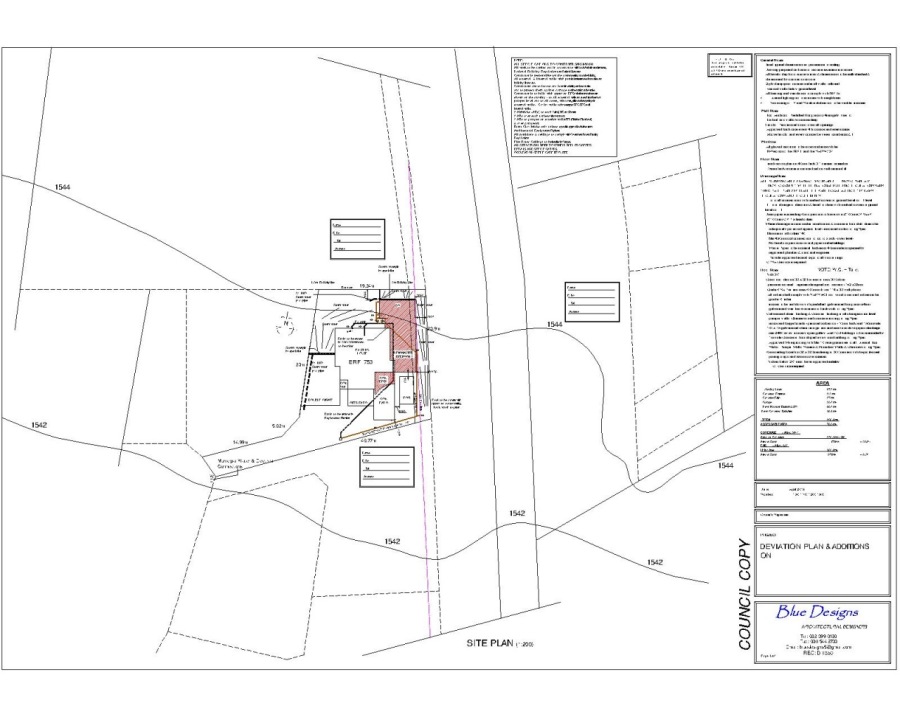 Page 2 - Floor Plan, Sections, Window Schedule, Electrical Demand Calculations and Notes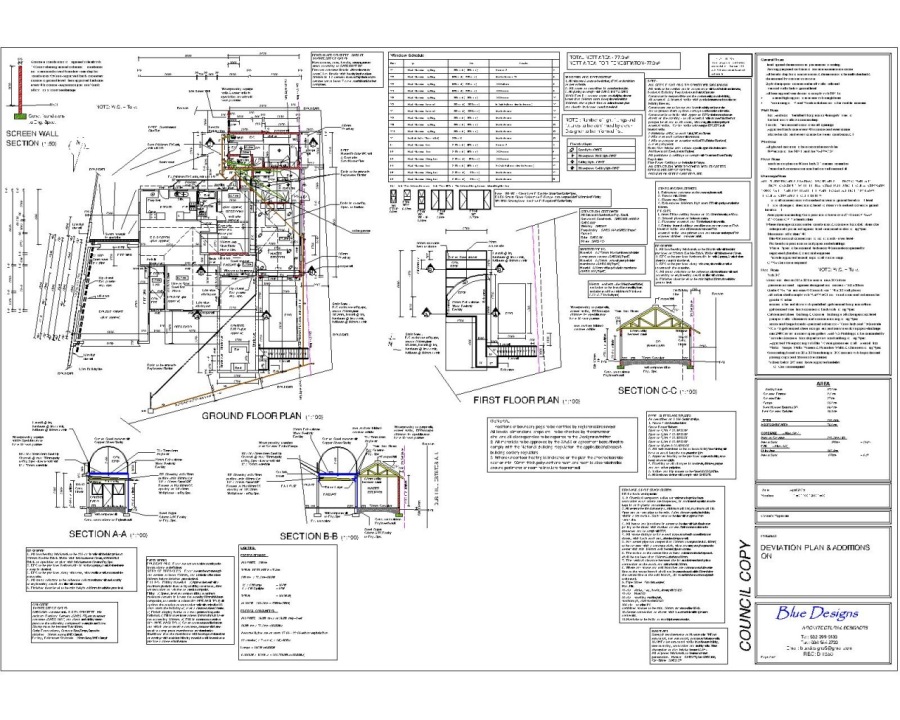 Page 3 Elevations, Water Layout, Water Demand Calculations & Notes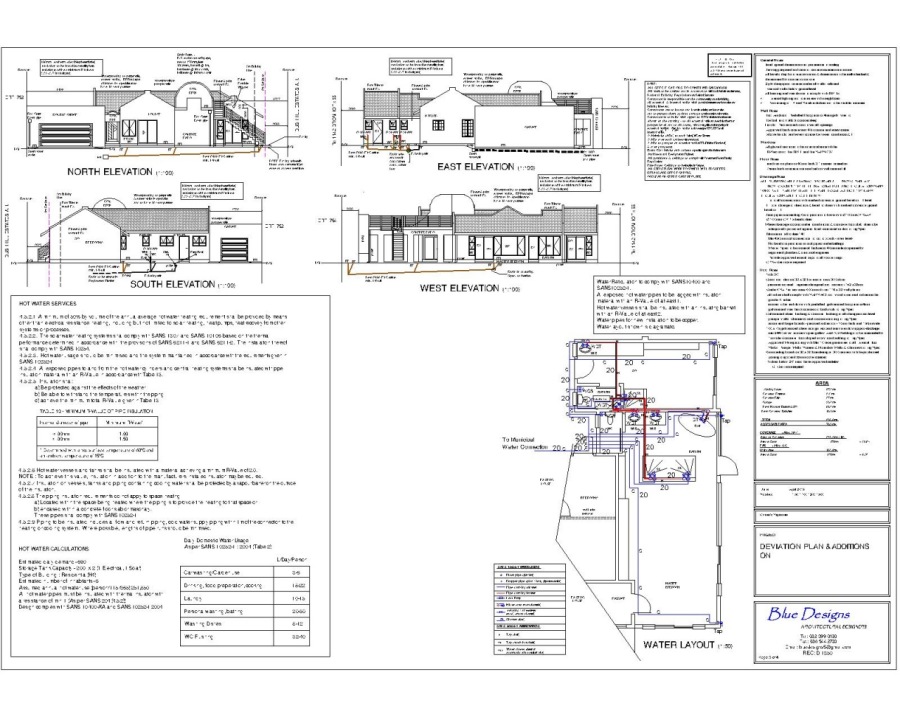 Page 4 Sectional Elevations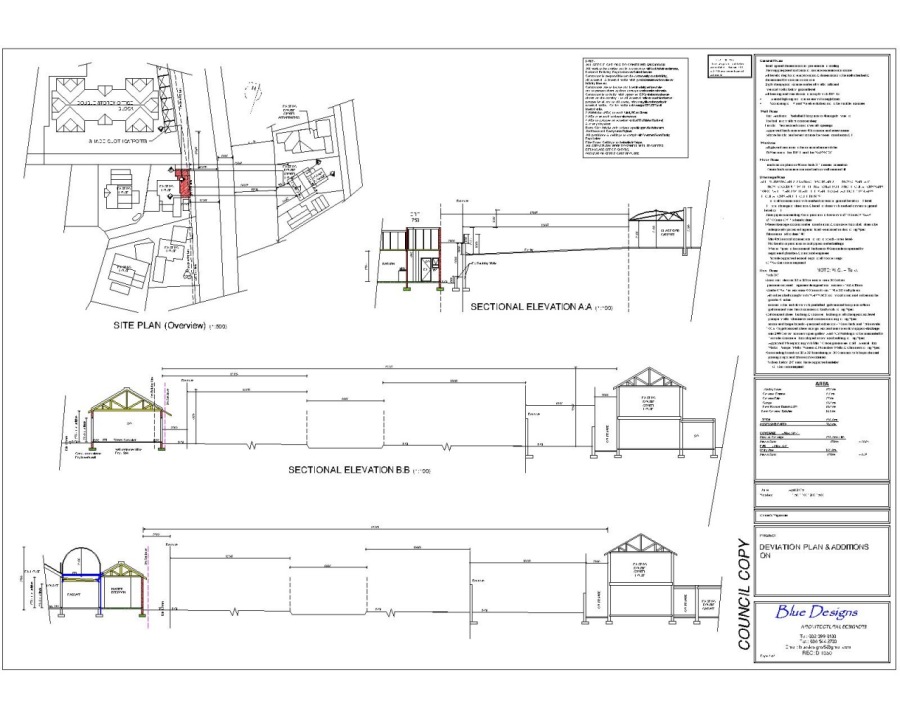 Recently I've seen plans submitted to Council that look like this - I quoted for this job in August 2016, the Client got 4 quotes (it's always a good idea to get a few quotes) and this chap was about 40% cheaper than the other Architects/Designers who also quoted.  This plan was submitted to Council in early 2017 (yes it did take that long to draw up the plans...) and the lady called me last year to assist her as her plans were still in Council and she didn't know what to do.  In the meantime she had gone ahead and finished her building project.
I would have had to re-draw the plans and double check site measurements, as over a year had passed and Council  had tightened up regulations I had to explain to her that it was going to cost MORE.  It's always much harder to fix someone else's mistakes.
The worst part was... I would have had to get other professionals to double check the work that had been done - the 'builder' had not bothered with a structural engineer for the foundations or the roof.  And there were code violations with the plumbing in the Scullery!   You can not encase a sewer waste pipe going under a building in concrete anymore to protect it against load, it has to be in a duct so you can access it easily if there is a problem. If you don't then you will have to dig everything up..
The more I looked at these plans the more my head span.  
Take a look at this section -
and compare it to one of mine -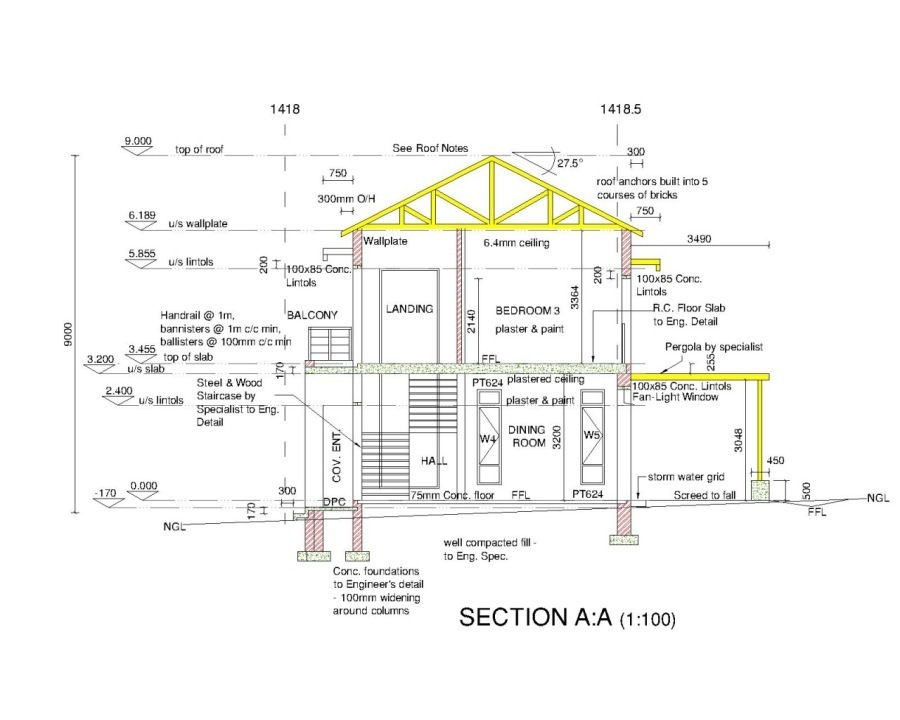 Admittedly this one is for a new house so here's one I did for an addition a while back (
full plans featured above) -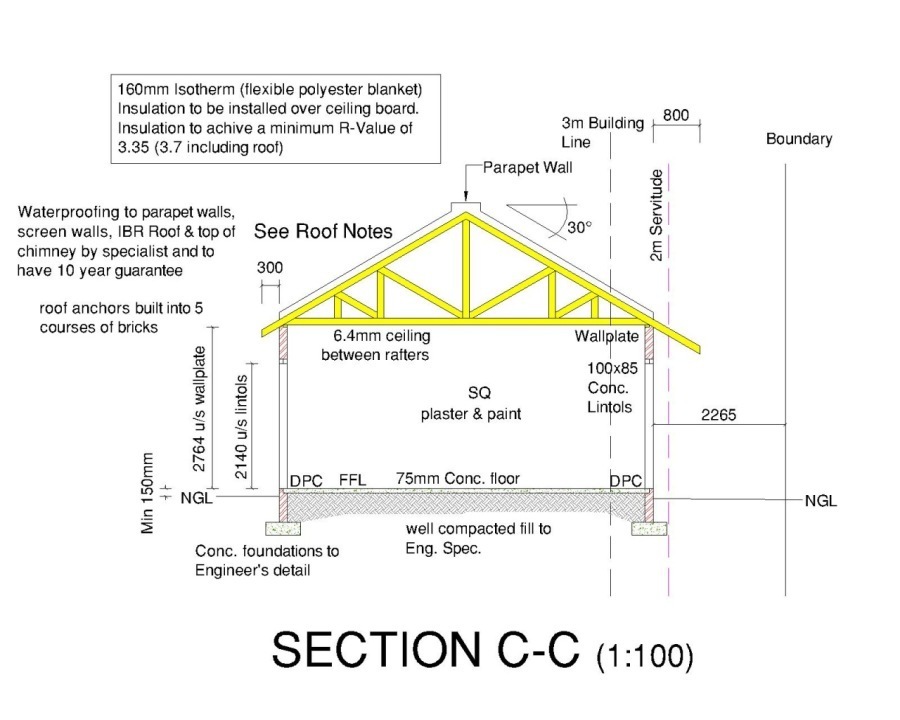 and here's another one on the same project -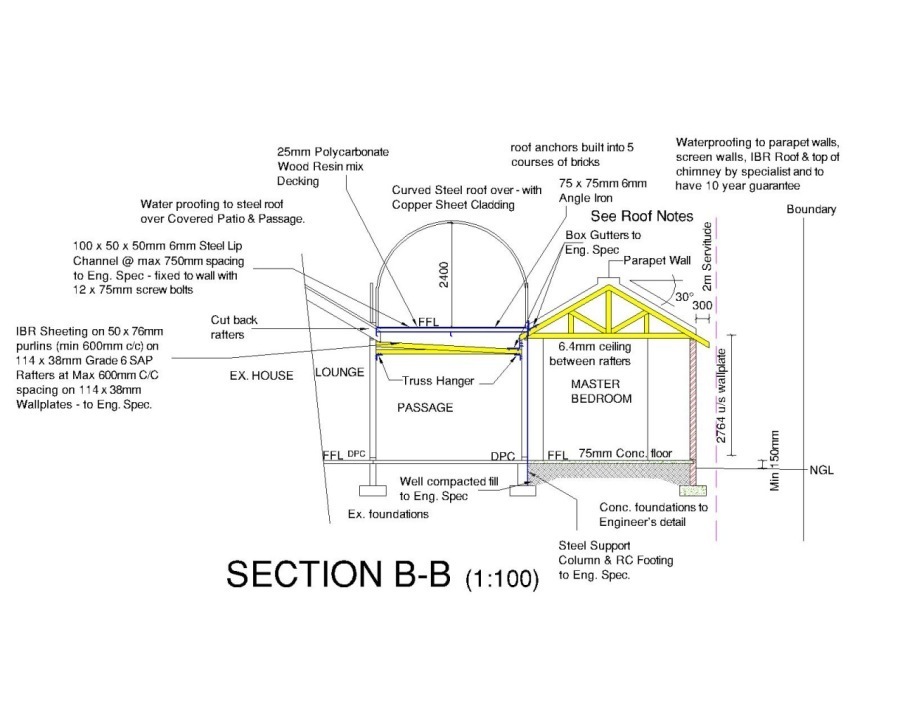 Here is an elevation from the same project  -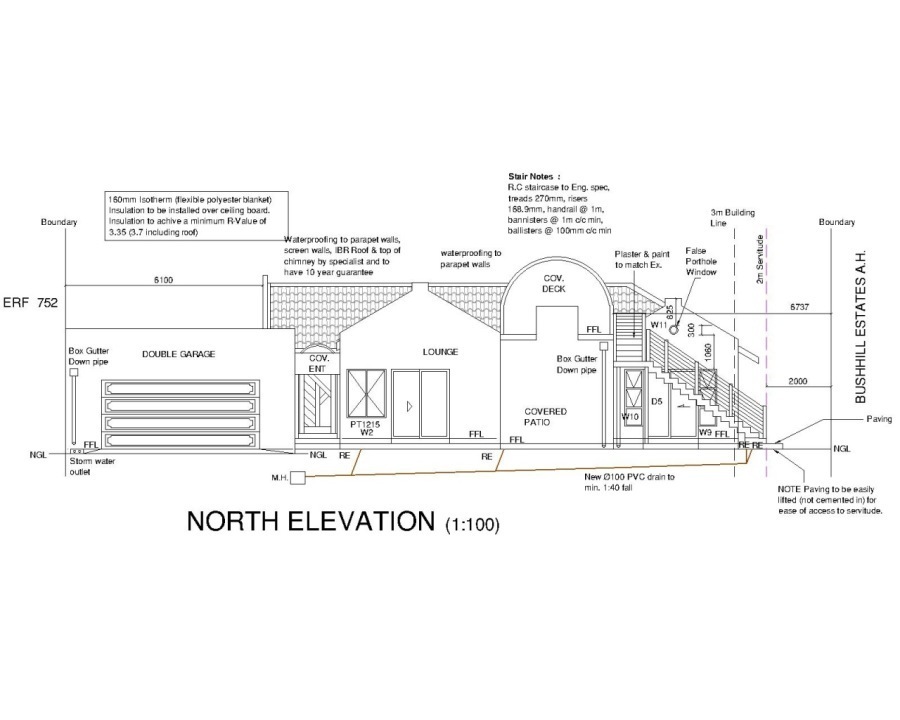 Take a look at one of the Elevations this other person did -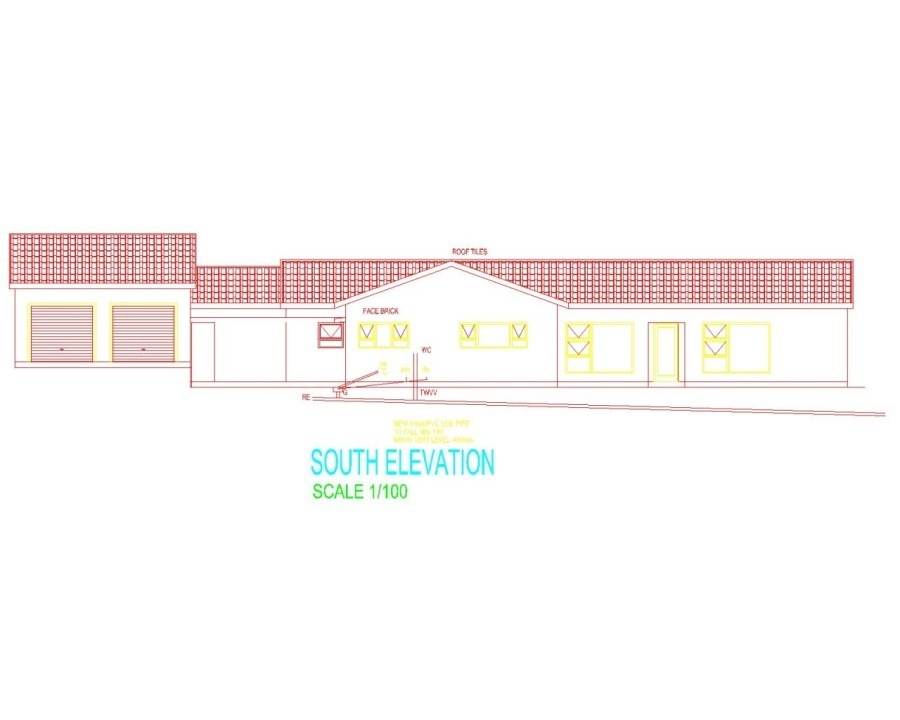 The paper copies of the plans I was shown were also in red, blue and yellow.  Apart from the fact that they don't photocopy well or indeed read well on site - it doesn't adhere to Standard Regulations and not what Council wants!!!  All new brickwork has to be shown in red, all new timber in yellow, all new metal in blue, all new sewer pipes in brown, etc. etc.  All existing has to be shown in black.  The entire house must be dimensioned (in black not yellow...), there is no window schedule  and the list goes on.
The plumbing has been drawn incorrectly, there are no vents indicated on the stacks and the waste traps are not shown - I didn't get to site to see this - I can only hope and pray that the plumber did his job properly...

What paperwork does Council want?  
Here is the list...(it just keeps on getting longer!)
Prior to plan submission you will need approval and stamps from the following -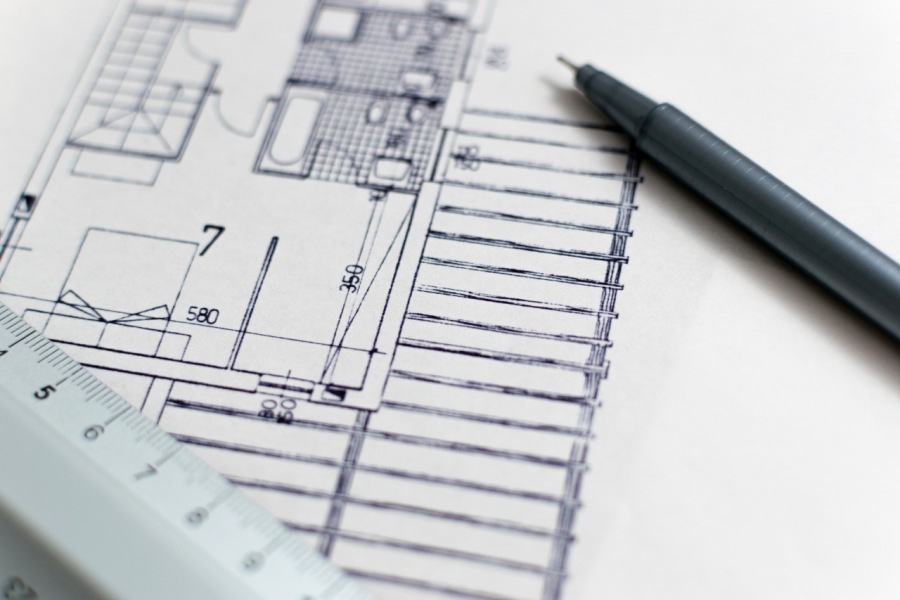 1.) Fire Department - if your property is zoned business, commercial, special use or if you are building with thatch or timber frame construction.

2.) Water / Sewerage department - if you are applying for Building Line Relaxation, proposing a new house / building or doing major renovations. 
In other cases you must  submit your plans with a water and sewer map and first prize is to get a Joburg Water Stamp too.

3.) Roads / Transportation Department - if you are applying for Building Line Relaxation.

4.) Environmental Health - if your property is zoned agricultural, business, commercial or special use.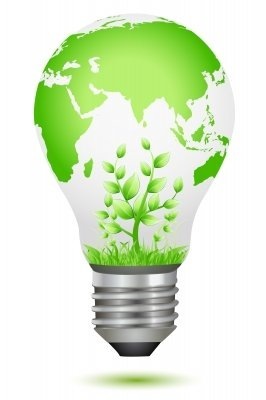 New regulations enforced in September 2012 also require that your home is energy efficient - this also stipulates that at least 50% of your hot water is generated from solar powered geysers or heat pumps.
Energy Efficiency Calculations need to be done for the Fenestrations (glazed doors and windows) and the roof.
Energy Demand Calculations will also need to be included with the plans.

and finally the paperwork -
For Plan Submission you will need -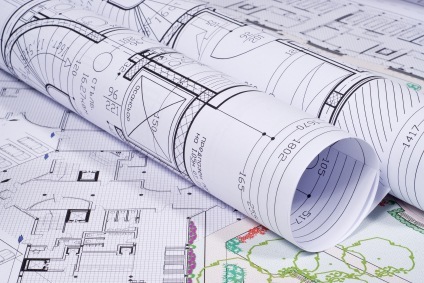 1.) 3 Copies of the building plans - 1 Colour & 2 Black & White or 3 Colour preferably A1 in size.

2.) Application Form

3.) SACAP Registration form.

4.) SANS 10400 forms & Engineer's Appointment form (Form 2) If other specialists are also required for the plans (like a Ventilation Engineer or a Fire Engineer then they will also need to fill in Form 2).  Your Engineer/Engineers will also need to stamp your plans.
5.) Title Deed / Deed of Transfer.

6.) Fire Department/ Environmental Health / Roads / Water stamps etc. if applicable.

7.) Water & Sewer Maps from the Water & Sewerage Department (In Johannesburg it's Joburg Water).

8.) Permission letter and stamp from Body Corporate / Aesthetics Committee etc. if applicable.

8.) Letter from Town Planning for Building Line Relaxation, Consent, Rezoning etc. if applicable.

9.) Approved SDP (Site Development Plan) if applicable. Or a Revised SDP if your property is not zoned Residential 1.
10.) Plan Submission / Courier Fees and Council Fees.
11.) Power of Attorney authorising your Architect / Courier to act on your behalf in respect of gaining building plan approval.
12.) Energy Efficiency Calculations for your home.
13.) Lighting Layout with Energy Consumption & Demand Calculations
14.) Water layout.
15.) Hot Water Demand Calculations.
16.) Heritage Approval Stamp and Letter if your home or building is more than 60 years or is deemed to be of historical, aesthetic or of social significance.
17.) SG (Surveyor General) Diagram, Aerial Photograph, Contour Map and Zoning Certificate.
18.) Patience!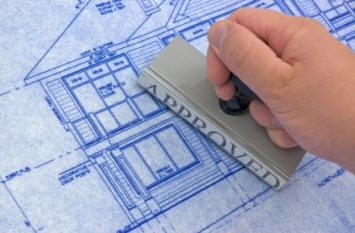 Please take a look at the articles I wrote below on How to Get Building Plans Approved, Building Line Relaxation and Why it's Never a Good Idea to Build without Planning Permission for more info.  I've also added links to two articles I've written about Heritage Applications.

If you need help with plans that are 'stuck' at Council or you would like to arrange an appointment with me to discuss a project (new building, renovations/additions or 'As Built' structures needing plans) please let me know.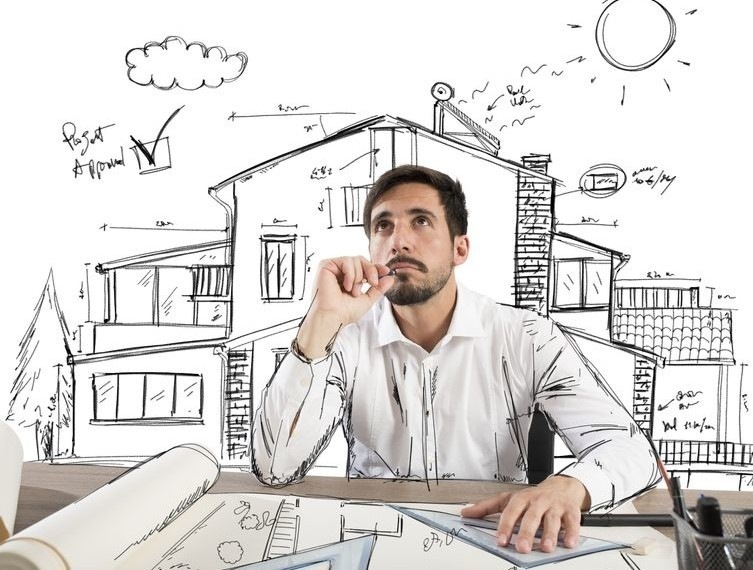 I have a Free E-Book for you
- 
How to Prepare For Your Design Project - how to Create a Design Brief before hiring your Architect/Designer 
It's full of helpful tips - after all a good working relationship and a good brief with your Designer is key!
You can order it here -

Free E-Book - How to Prepare For You Design Project
Further reading -

What you Should Expect from your Architect/Designer
Who's Better an Architect or a Designer?

Getting Building Plans Approved

Why it's Never a Good Idea to Build without Plans or Planning Permission
Considering Buying / Renovating a Heritage Home? Pros and Cons
How to Plan your Heritage Home Renovation
and How Does my Design Process Work?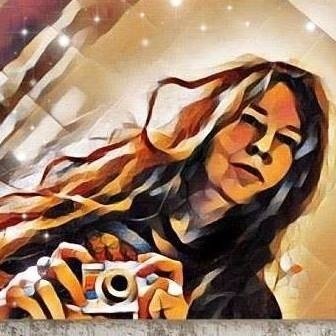 Call Claire +27 82 399 0180 /  
Whatsapp - +27 66 232 3776

bluedesigns5@gmail.com

I love Architecture. I think it's vital to talk about all aspects of Architecture - whether it be planning, construction, design or green building. I have written 3 E-Books & over 110 articles. Please feel free to let me know if you have any queries regarding architecture, planning & construction & I will assist you.
I am originally from the UK and moved to South Africa in 1999.  I started Blue Designs in 2004 after working as a driver for Avalon Construction on a luxury home in the Featherbrook Estate.  In my spare time I am an artist and writer (The Naked Architect - I believe in laying 'bare' the mysteries of Architecture and the Planning Process - and no I won't be taking my clothes off!)
https://www.bebee.com/group/the-naked-architect  & 
https://www.facebook.com/groups/258263907906727/ ).
Please follow me on :-
https://www.bebee.com/bee/claire-cardwell 
https://twitter.com/ClaireCardwell

https://www.linkedin.com/in/claire-cardwell-ab438a17
https://www.facebook.com/bluedesignsarchitects/
#Architecture  #Architect  #Clairecardwell  #Clairelcardwell  #Bluedesigns  #Bluedesignsarchitecturaldesigners  #Architecturaldesigner  #Design #thenakedarchitect #nakedarchitect #southafrica #houseplans #howtogetbuildingplansapproved #buildinglinerelaxation #council #planningpermission #sacap #sacapsa #buildingplanapproval #bylaws #nationalbuildingregulations #NBRs #SANS10400 #southafrica #johannesburg #joburgn #clairecardwell  #clairelcardwell #houseplans #buildingplans #architecturaldesigner #designer #design
You may be interested in these jobs
---

Clicks Group Limited

Vanderbijlpark, South Africa

Advert reference: · click_012861 · Advert status: · Online · - · Position Summary: · Industry: · Wholesale & Retail Trade · Job category: · Other: FMCG, Retail, Wholesale and Supply Chain · Location: ...

Found in: beBee Professionals ZA - 22 hours ago

---

beBee Professionals

Rustenburg, South Africa

IT Support

Freelance

BeBee Professionals is looking for a Network Support Engineer to join our team in Rustenburg. · The successful candidate will be responsible for providing technical support and maintenance of the comp ...

---

Smollan

Umtata, South Africa

We're on the lookout for an experienced · Sales Rep on a fixed-term contract. The role is based in · Eastern Cape-Mthatha. · As a Sales Rep, you will be responsible for: · Sales and Communication Ma ...