The Truth About What A Building Plan Should Look Like...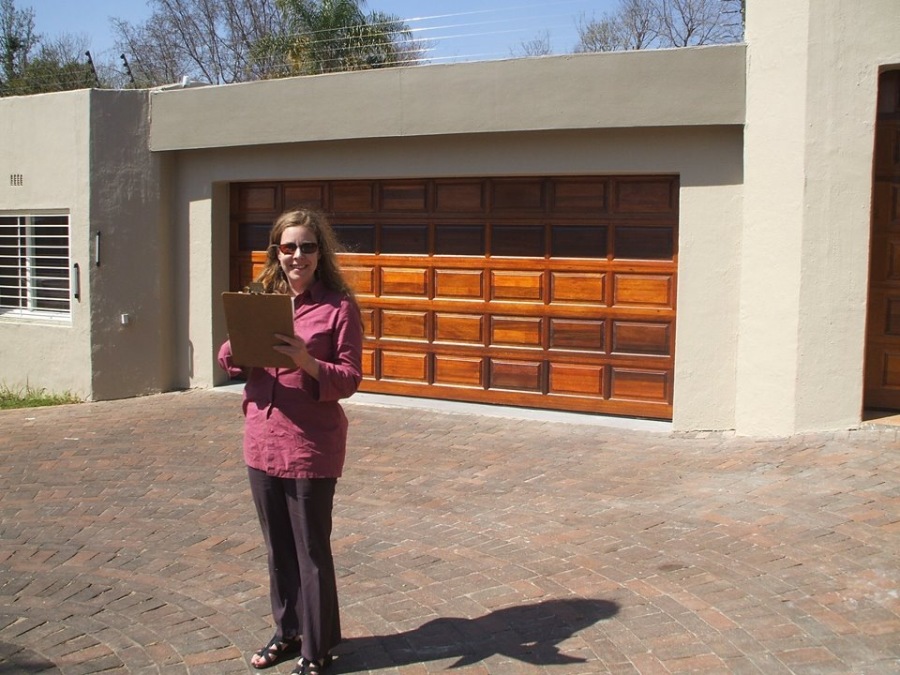 Too many people are getting messed around by inexperienced /unqualified or even unscrupulous 'architects'.  My blood's been boiling for a while and I was horrified to see yet another set of bad plans just before Easter.  In essence it was pretty lines drawn in the sand and then put on paper.  The plans would have been rejected in 1979 let alone 2019! A week last Thursday I drove up with a building inspector friend of mine to see a lady in Centurion, she was in a state and I can't blame her.  I looked at the plans that had been 'drawn' by a so-called Senior Architectural Technologist and it was clear to me that the 'architect' was not what he said he was.
Despite the client's misgivings he had told them that restrictions in a Title Deed (building lines, second dwelling etc. etc.) did not matter.  The additions that the client wanted and he drew would not work structurally, there was little to no information for the builder, they were not up to code and would never have been approved.
And... to add insult to injury he did NOT submit those plans to Council, I confirmed this yesterday.  Although to be honest first prize was that the plans had not been submitted...
This is because a 'red flag' would rise at Council, in some cases a Client's planning permission is put on a 'temporary' hold which can last indefinitely whilst Chief Plans Examiners, Town Planners, City Engineers and Building Inspectors are consulted for advice.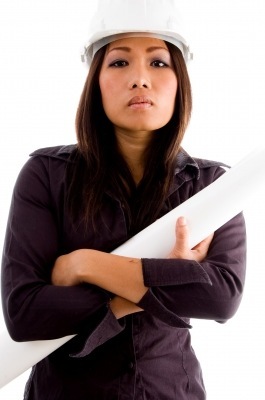 Please don't think that I am saying that my drawings are the best - drawing a set of Architectural plans is hard work and there are many great Designers and Architects around.  Staying up to date with the latest by-laws, building codes and the latest Town Planning Schemes is tough!  

Occasionally I need to fix things, so I update my plans, reprint, get them re-stamped & signed and then replace the plans in the file with the corrections.  Sometimes I make corrections with a pen and coloured pencils or add notes.  Not ideal, I like everything to be perfect!
8 Important Points to Consider When Hiring an Architect/Designer -
1. Is your Architect/Designer Registered with SACAP?

The most important thing to check is whether your Architect/Designer is registered with SACAP (South African Council for the Architectural Profession) -  https://www.sacapsa.com/default.aspx
It is illegal for anyone to practice architecture if they are not registered (even if they are a draughtsperson working for another architect).  They should be at least registered as a Candidate Draughtsperson/Architect etc.  and under the guidance of a registered mentor.  Even Architecture Students are not allowed to submit plans without being registered with SACAP as Candidates.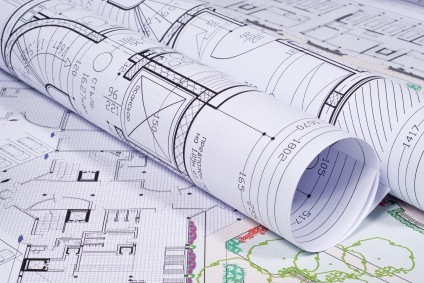 2. Is your Architect/Designer qualified to do the work?
I am not necessarily talking about a formal qualification here, there are many people (myself included) who did not formally study Architecture at University and learnt 'on the job' under the guidance of a mentor.  As I write I am sorting up my recognition of prior learning (15 years experience) architecture qualification with SACAP, it's a long and complicated process!
If you are planning a small home renovation then an experienced Draughtsperson is ideal.
If you are planning a major renovation/remodel or are planning to build a new house then an experienced Designer/Architect should be used.  (Your Designer may be registered as a Draughtsperson or Architectural Technologist rather than an Architect or Senior Architectural Technologist). 
(I wrote two articles recently that go into more detail -  'Who's better an Architect or a Designer?' and 'What you Should Expect from an Architect/Designer?' Please see links at the end of the article below). Are you planning a major project like a big school, a hospital or petrol station?  If so you will need to use an Architect or Senior Architectural Technologist who has experience with this type of work.
FYI Working with a newly qualified Candidate Architect/Designer under a registered mentor can be a great idea, they are not only young and enthusiastic, they are fully up to date with the latest building codes.
3. Are they Cheap as Chips?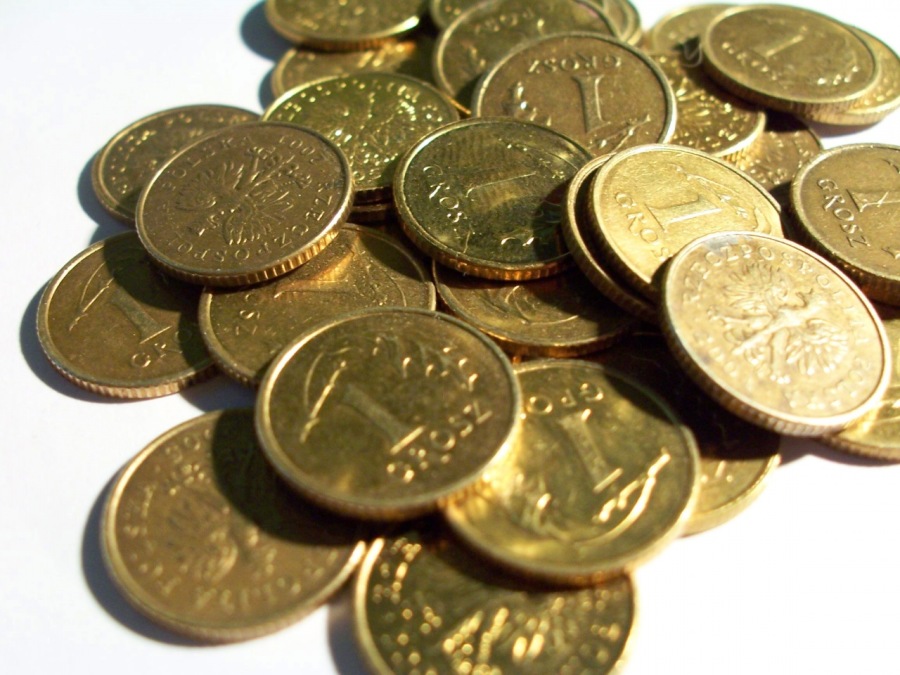 If your Architect/Designer is considerably cheaper than everyone else this should raise a red flag.  It might seem a good idea to save money at the beginning of a project and sometimes people get lucky.  Mostly they do not.  At best a cheap architect is going to be inundated with work or be unable to afford to finish the job leading to unnecessary delays.  More commonly the plans are badly drawn, are not up to date and will languish at Council.
If you are going to spend lots of money (millions in some cases) on a project, why oh why are going going to skimp on the most important part of the process - the design and planning?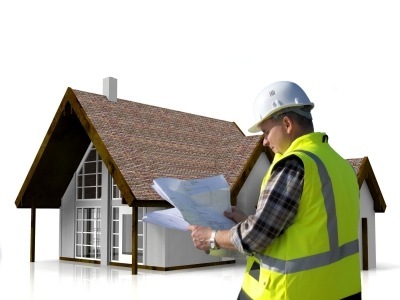 A properly thought out set of construction plans (that are submitted to Council) will prevent headaches in the future.  You can not start a project with a 'design concept' and expect the Engineer and your Builder to figure things out!  At best this will lead to cost over-runs and delays.
Good Design will enhance your life 

!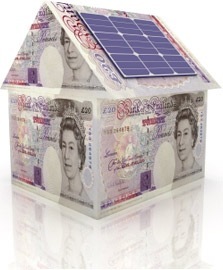 Good Design will enhance your life.  It will also pay dividends in the future.  Well designed houses and buildings are not only great places to live/work/play but also will command a higher price when it's time to sell.

4.  Get a Contract and Check Professional Liability Insurance...
If you have no contract then a) you have no scope of work and the fees required and b) very little recourse in terms of getting any form of compensation for poorly drawn plans or unprofessional behaviour.   This is also a SACAP requirement - I got into trouble a couple of years back as they were not happy with my Contract... Fortunately they were OK with the updated version.
And It's a legal requirement that Architectural Professionals have Professional Liability Insurance, check that they have adequate cover in place that will compensate you for errors and omissions on the plans that could have an impact on the construction and planning process.
Now the nitty gritty... 5. Have you and your Architect/Designer done their research?
I can not stress enough that you have to do your research before even starting a drawing (let alone submitting plans to Council or even starting to build).  Admittedly this is a rather long list of things to check through, but it's worth it!
Check your Title Deed / Deed of Transfer.  There are often restrictive clauses like building lines or servitudes which WILL affect the design and planning process.  You can not build over a servitude, and if you build over a building line specified in a Title Deed you will either have to remove the structure or apply for a removal of restrictions in a Title Deed.  This is very, very expensive and lengthy, you will have to hire a Town Planner and possibly an Attorney as well.  
Get your Zoning Information, SG (Surveyor General Diagram) and Aerial Photograph.  Are the local by-laws going to be infringed by your proposed project? If so your plans will be rejected at Building Control, you may get permission from Land Use Management (LUM/Town Planning) but don't bank on it.
Do you have previously approved plans?  (Obviously this doesn't apply to a new build...) if there are 'As Built'/Illegal Structures (and this includes Lapas, Carports, Swimming Pool and Boundary Walls - higher than 1.8m or if there is a slope/poor soil conditions) these will also need to go on the plans and certified by a Structural Engineer.  
If you have no plans then they will  have to be completely re-drawn...  Although Council does have an archives department it's actually up to the property owner to make sure there are an up to date set of plans...
Bear in mind that any 'As Built'/Illegal buildings will NOT be covered by your building insurance policy.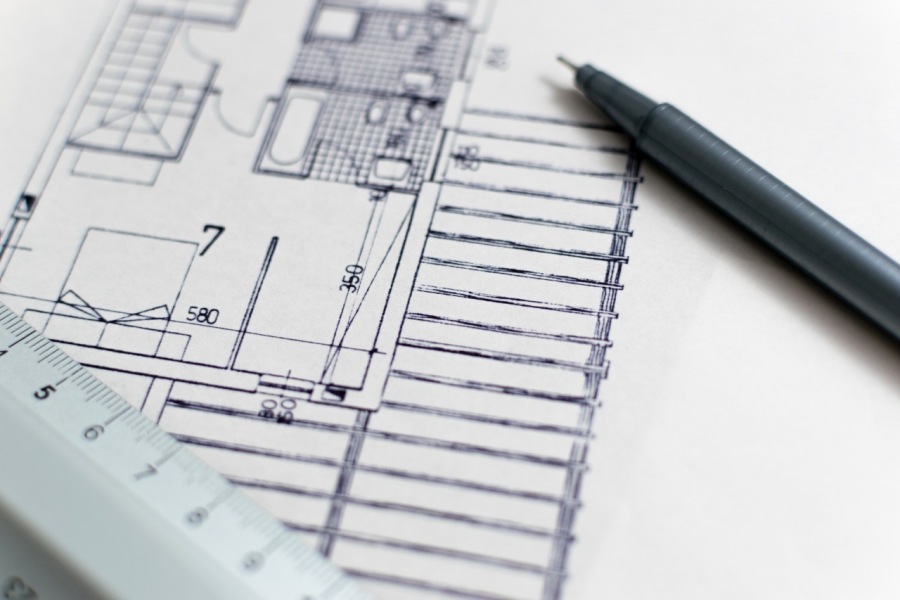 Check your Land... - are you planning to build on an area that floods?  Is the building going to be on dolomite or clay? Is your stand on the side of a mountain?  What about orientation, wind direction, underground rivers/streams?
What does your Structural Engineer say? (Yes you need one of those, for the foundations, any slab work and the roof - it's not only very important - but it's a legal requirement).
Is your House/Building/Structure a Heritage Property, in a Heritage Area and/or more than 60 years old?  If it is then a separate Heritage Application will need to be made before the plans can be submitted to building control.
and finally - Is there a Home Owner's Association, Residents Committee, Aesthetics Committee or a Body Corporate?  If so you will need to get the guidelines and obtain permission before you submit plans to Council.
6. Have you set a Budget ?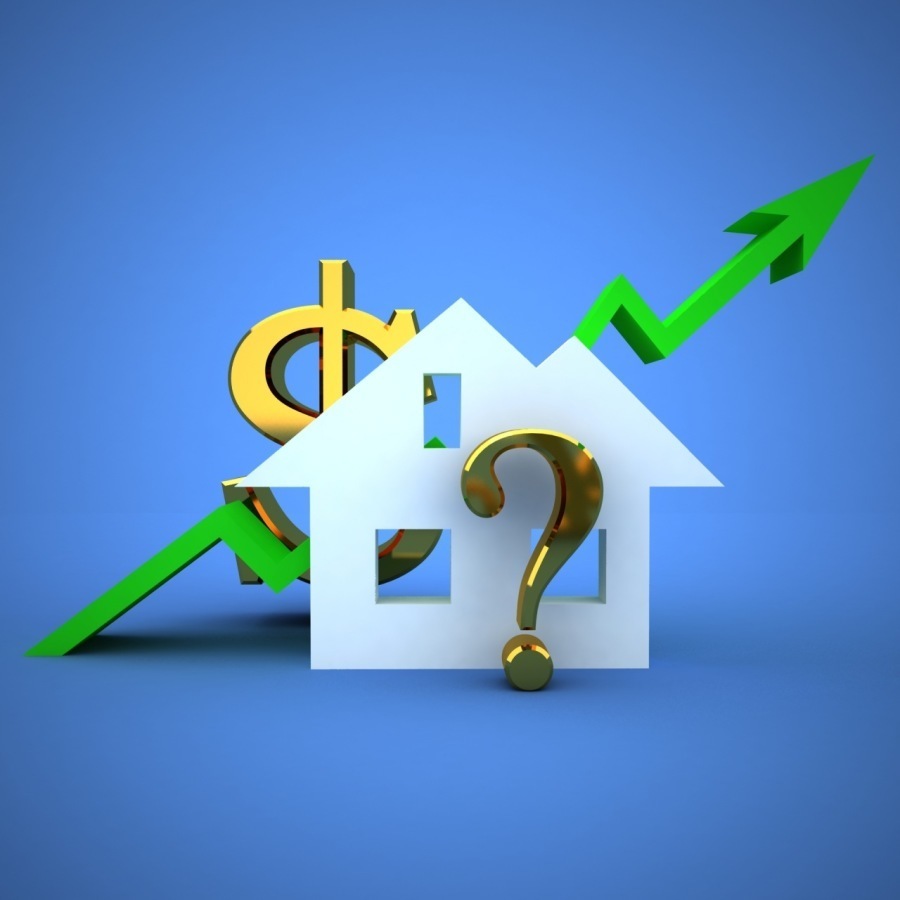 This is very important.  You need to be up front with your Architect/Designer before you start about how much money you have to commit to your building project.  (Don't forget to have an extra contingency fee of 20-25%  to draw on if you need it - this should not be included in the budget calculations).
We all have our dreams of what our ideal house should look like (and believe me Cardwell Towers is pretty impressive)... However you need to be realistic.  First of all will you be over-capitalising in your area?  In other words if the average house price in your area is R3 Million then spending R500,000 on a new Kitchen or R800,000 to R1,000,000 adding on an extra two bedrooms means that you will possibly not recoup your investment when it's time to sell the house. It's a good idea to check with your local Estate Agent/Realtor and get a market evaluation done on your house before you start.

Also think about how your design will affect a) the re-sale value of the house and b) it's 'curb appeal'.  
Please remember the more complicated your design is the more expensive it will be to build.  Whilst curves, arches and angles are fun to draw (and awesome to look at once the building has been finished) they are harder to build and therefore are more expensive.
7. Do you know what Council requires?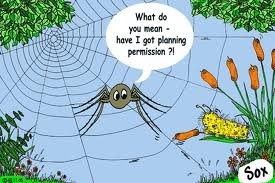 Apart from what the plans should look like (and I am getting there...) 
What paperwork does Council want?  
Here is the list...(it just keeps on getting longer!)
Prior to plan submission you will need approval and stamps from the following -


1.) Fire Department - if your property is zoned business, commercial, special use or if you are building with thatch or timber frame construction.

2.) Water / Sewerage department - if you are applying for Building Line Relaxation, proposing a new house / building or doing major renovations. 
In other cases you must  submit your plans with a water and sewer map and first prize is to get a Joburg Water Stamp too.

3.) Roads / Transportation Department - if you are applying for Building Line Relaxation.

4.) Environmental Health - if your property is zoned agricultural, business, commercial or special use.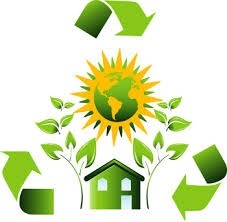 New regulations enforced in September 2012 also require that your home is energy efficient - this also stipulates that at least 50% of your hot water is generated from solar powered geysers or heat pumps.
Energy Efficiency Calculations need to be done for the Fenestrations (glazed doors and windows) and the roof.
Energy Demand Calculations will also need to be included with the plans.
For Plan Submission you will need -

1.) 3 Copies of the building plans - 1 Colour & 2 Black & White or 3 Colour preferably A1 in size.
2.) Application Form
3.) SACAP Registration form.
4.) SANS 10400 forms & Engineer's Appointment form (Form 2) If other specialists are also required for the plans (like a Ventilation Engineer or a Fire Engineer then they will also need to fill in Form 2).  Your Engineer/Engineers will also need to stamp your plans.
5.) Title Deed / Deed of Transfer.
6.) Fire Department/ Environmental Health / Roads / Water stamps etc. if applicable.
7.) Water & Sewer Maps from the Water & Sewerage Department (In Johannesburg it's Joburg Water).
8.) Permission letter and stamp from Body Corporate / Aesthetics Committee etc. if applicable.
8.) Letter from Town Planning for Building Line Relaxation, Consent, Rezoning etc. if applicable.
9.) Approved SDP (Site Development Plan) if applicable. Or a Revised SDP if your property is not zoned Residential 1.
10.) Plan Submission / Courier Fees and Council Fees.
11.) Power of Attorney authorising your Architect / Courier to act on your behalf in respect of gaining building plan approval.
12.) Energy Efficiency Calculations for your home.
13.) Lighting Layout with Energy Consumption & Demand Calculations
14.) Water layout.
15.) Hot Water Demand Calculations.
16.) Heritage Approval Stamp and Letter if your home or building is more than 60 years or is deemed to be of historical, aesthetic or of social significance.
17.) SG (Surveyor General) Diagram, Aerial Photograph, Contour Map and Zoning Certificate.
18.) Patience!
Please take a look at the articles I wrote below on How to Get Building Plans Approved, Building Line Relaxation and Why it's Never a Good Idea to Build without Planning Permission for more info.  I've also added links to two articles I've written about Heritage Applications.

And Finally...
8. What Should My Plans Look Like?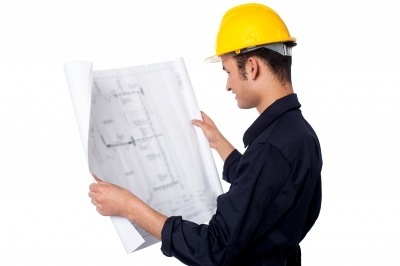 Recently I've seen plans that look like this...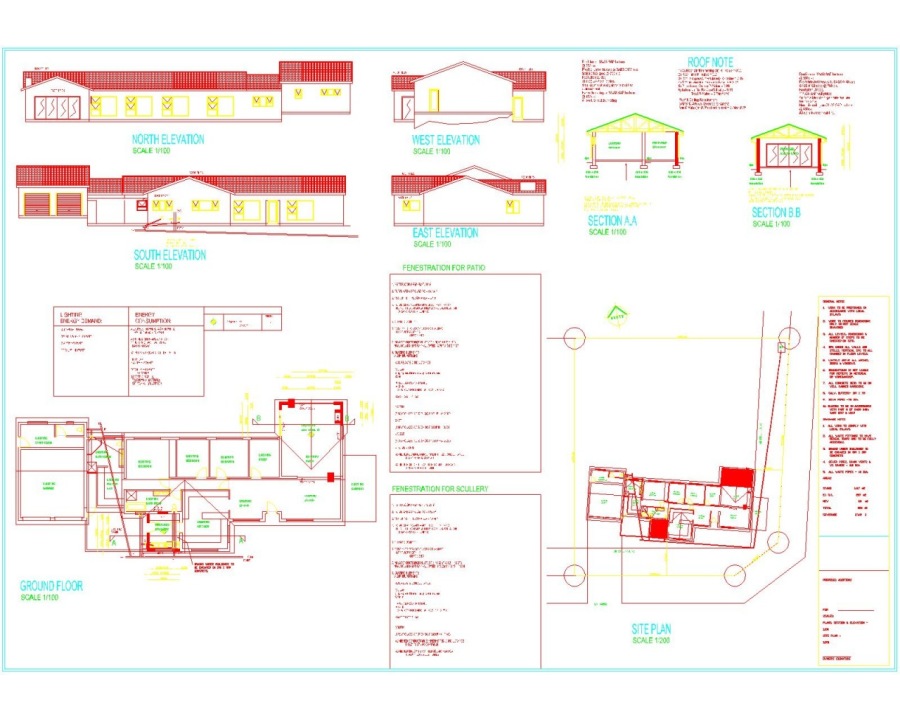 I quoted for this job in August 2016, the Client got 4 quotes (it's always a good idea to get a few quotes) and this chap was about 40% cheaper than the other Architects/Designers who also quoted.  This plan was submitted to Council in early 2017 (yes it did take that long to draw up the plans...) and the lady called me last year to assist her as her plans were still in Council and she didn't know what to do.  In the meantime she had gone ahead and finished her building project.
I would have had to re-draw the plans and double check site measurements, as over a year had passed and Council  had tightened up regulations I had to explain to her that it was going to cost MORE.  It's always much harder to fix someone else's mistakes.
The worst part was... I would have had to get other professionals to double check the work that had been done - the 'builder' had not bothered with a structural engineer for the foundations or the roof.  And there were code violations with the plumbing in the Scullery!   You can not encase a sewer waste pipe going under a building in concrete anymore to protect it against load, it has to be in a duct so you can access it easily if there is a problem. If you don't then you will have to dig everything up..
The more I looked at these plans the more my head span.  
Take a look at this section -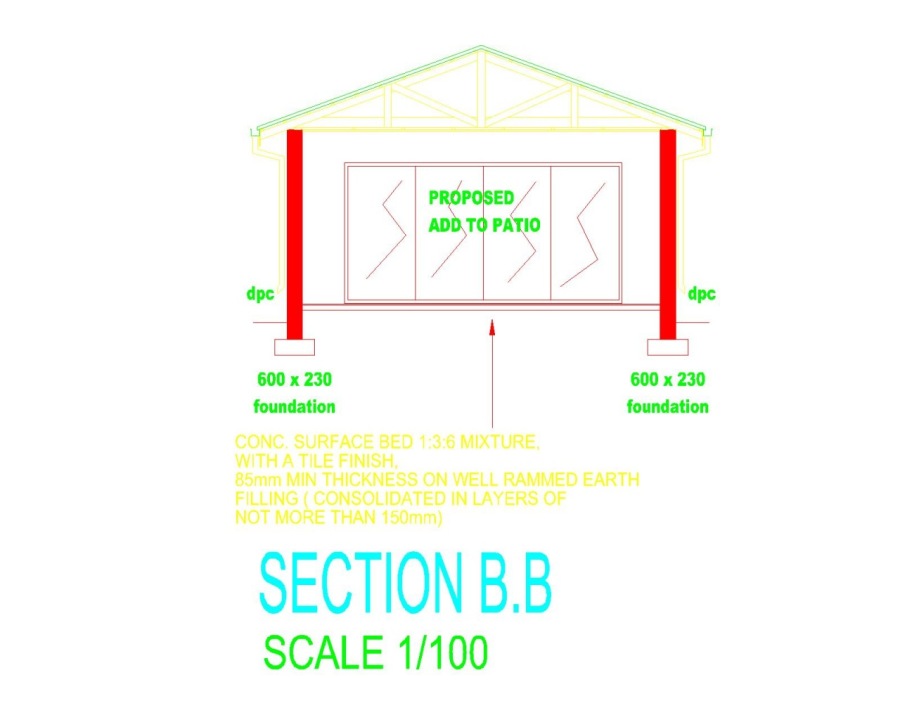 and compare it to one of mine -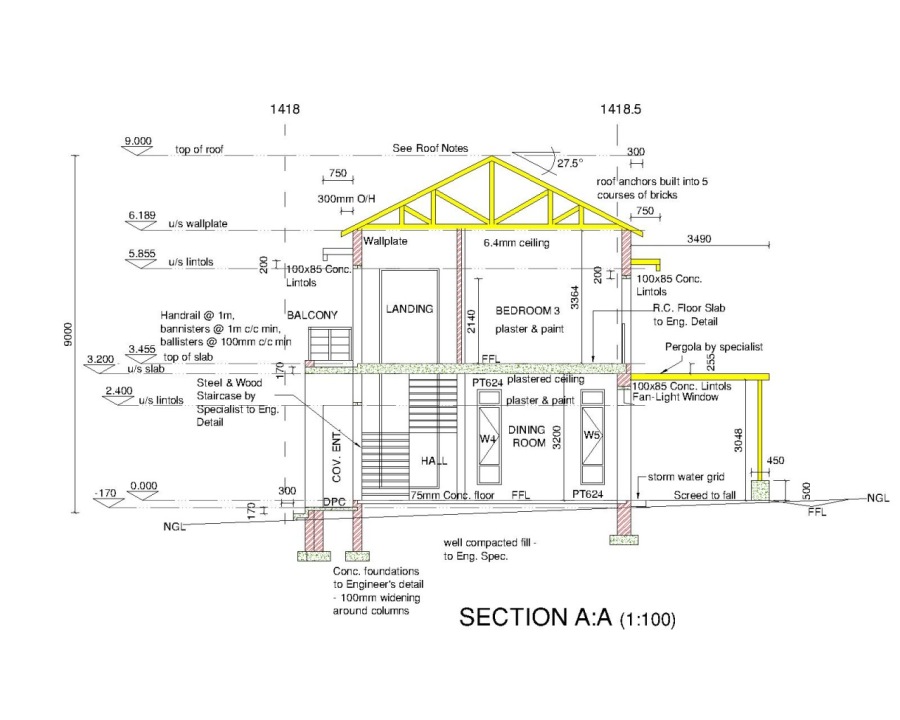 Admittedly this one is for a new house so here's one I did for an addition a while back -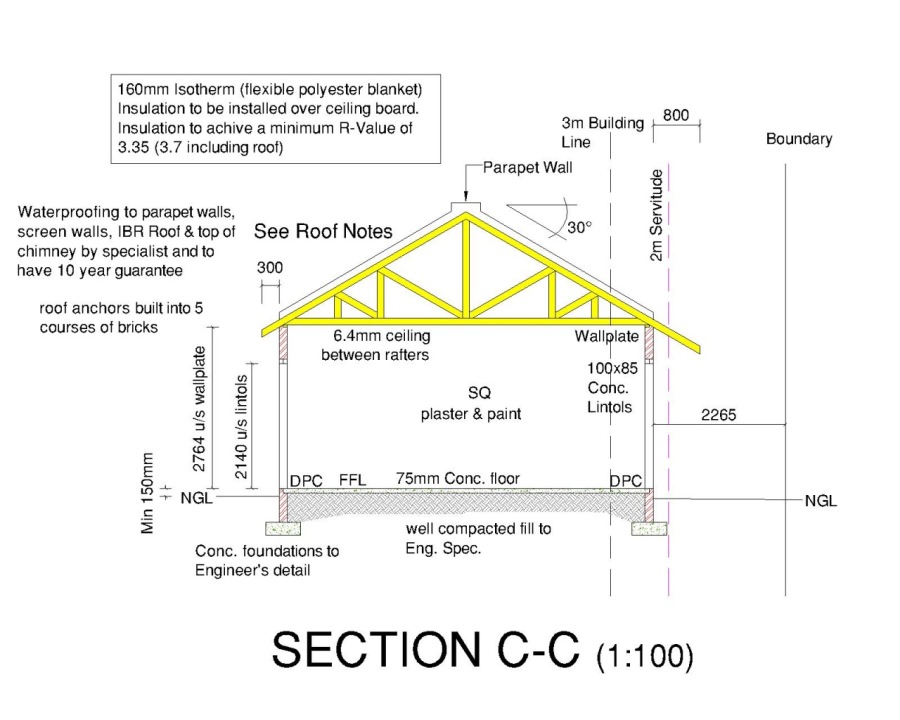 and here's another one on the same project -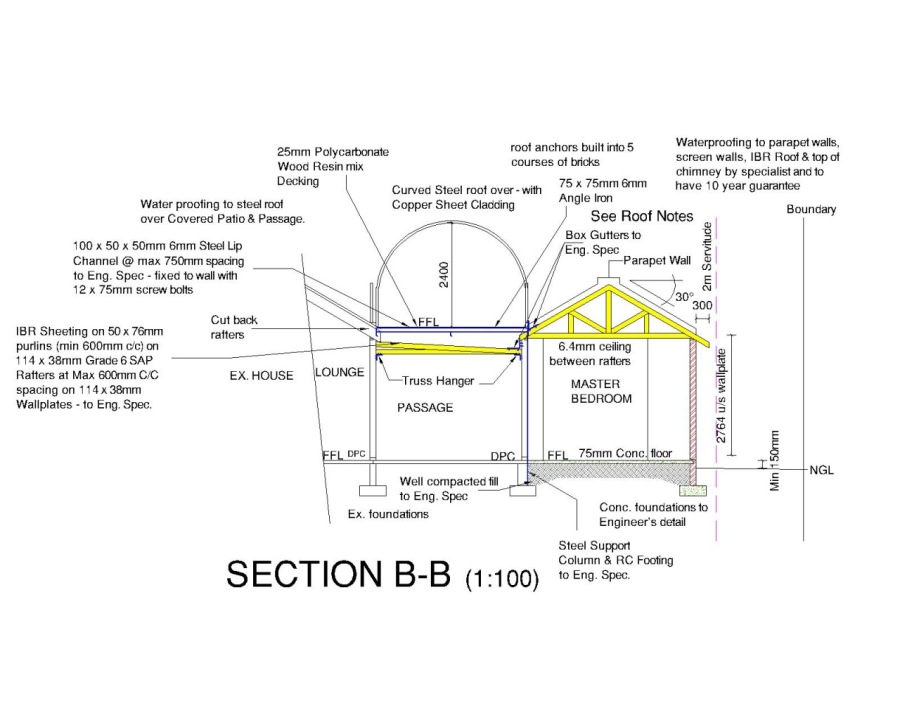 Here is an elevation from the same project  -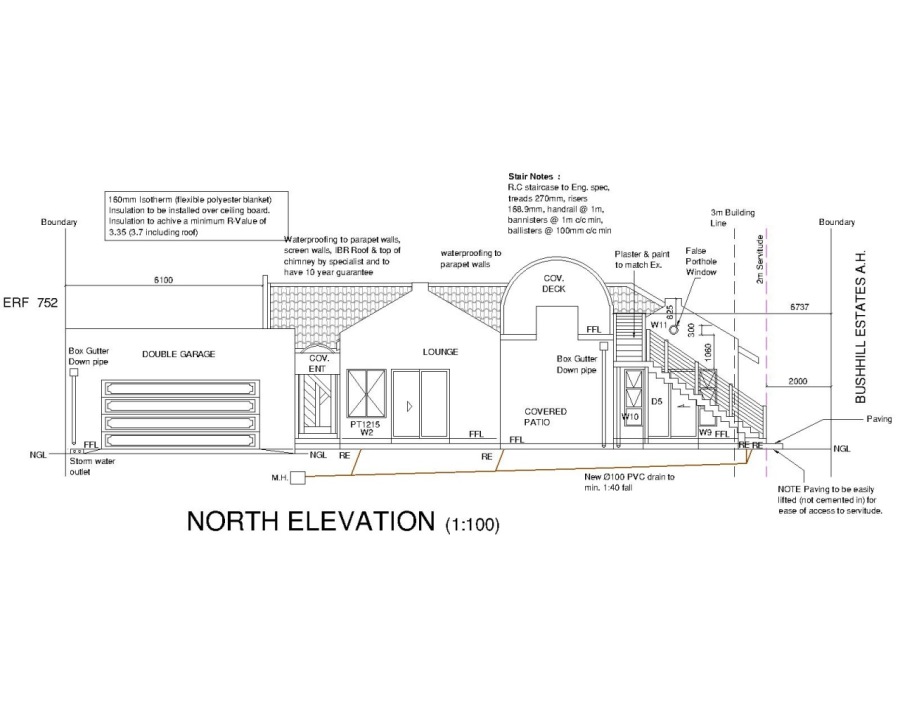 Take a look at one of the Elevations this other person did -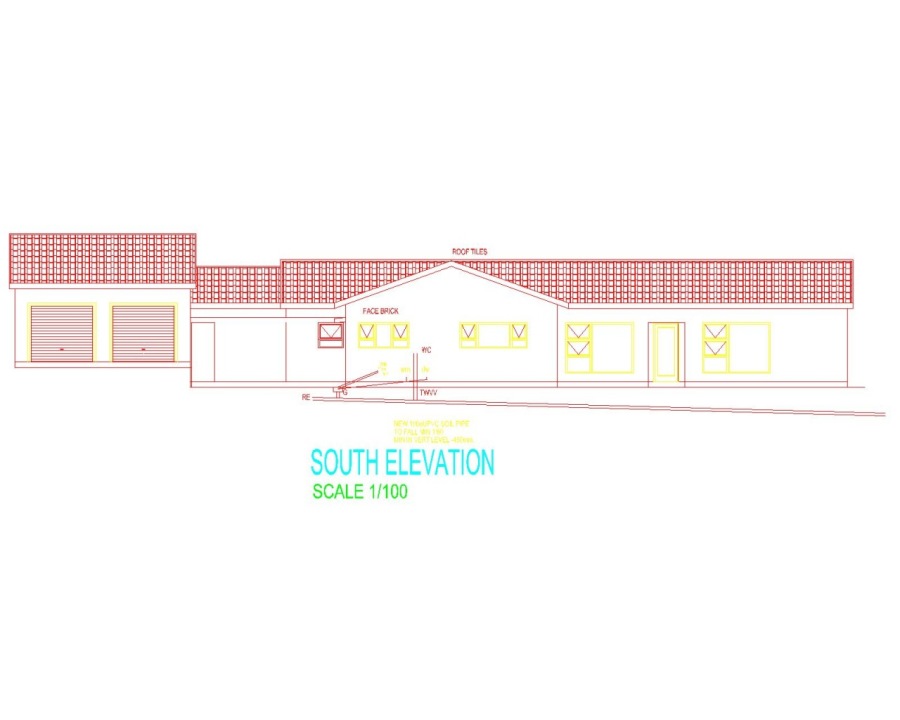 The paper copies of the plans I was shown were also in red, blue and yellow.  Apart from the fact that they don't photocopy well or indeed read well on site - it doesn't adhere to Standard Regulations and not what Council wants!!!  All new brickwork has to be shown in red, all new timber in yellow, all new metal in blue, all new sewer pipes in brown, etc. etc.  All existing has to be shown in black.  The entire house must be dimensioned (in black not yellow...), there is no window schedule  and the list goes on.
The plumbing has been drawn incorrectly, there are no vents indicated on the stacks and the waste traps are not shown - I didn't get to site to see this - I can only hope and pray that the plumber did his job properly...
and this -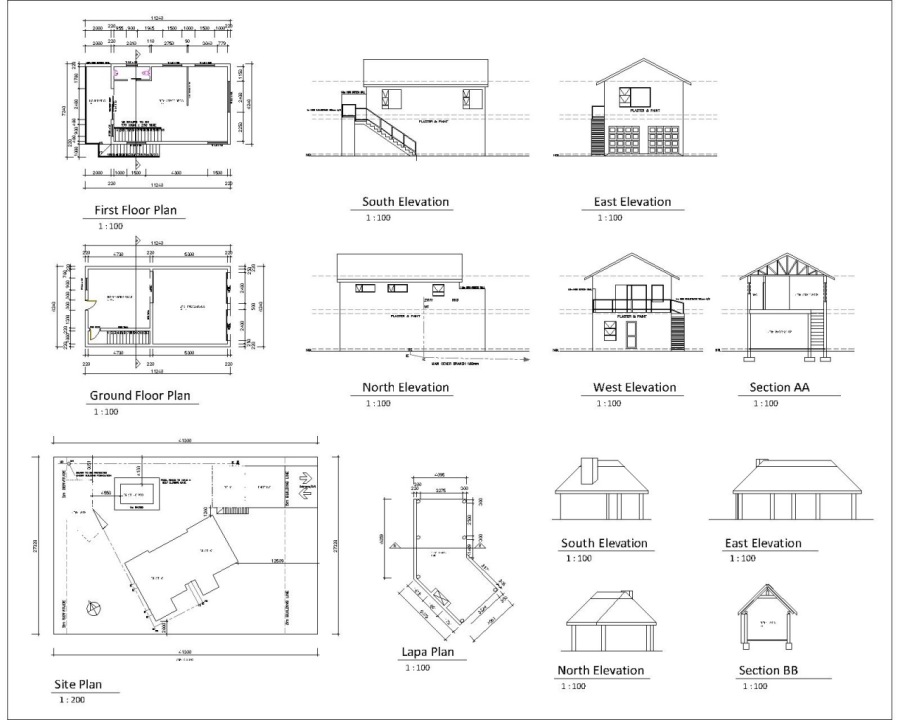 Admittedly this lady got a draughtsperson working at her company to draw up the plans, so there isn't anything technically wrong with them, they just are not detailed enough and they will have to be seriously tweaked.  All for a minor deviation (the position of the toilet is different on the new building than it is on the plan and the Building Inspector is demanding that a deviation plan be submitted to Council).  At least the basics have been properly done and the lady that drew these plans had a lot more of a clue than the chap that drew up the red plans above...
FYI - a section of a thatch lapa should look like this...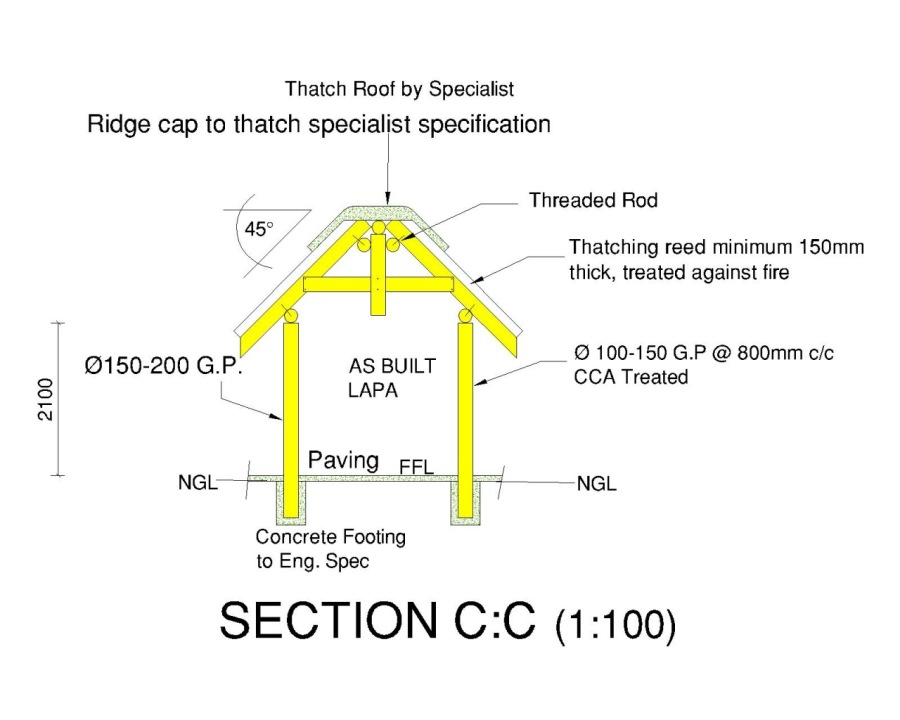 Here is the full set of plans for the project I did recently (Sections & Elevations above).  Page 4 (sectional elevations) is only required for Building Line Relaxation.
Page 1 - Site Plan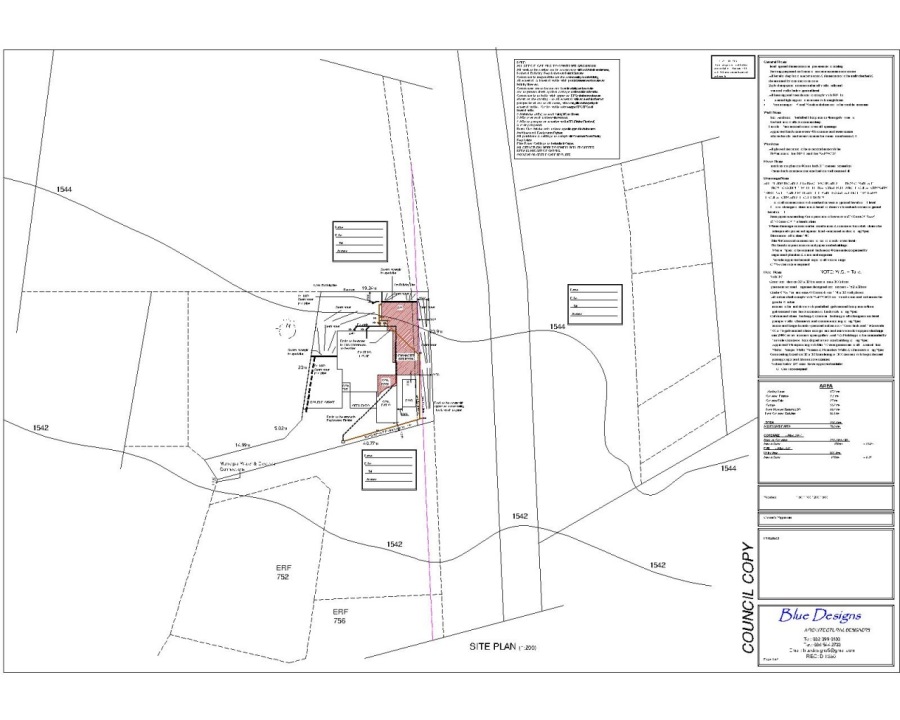 Page 2 - Floor Plan, Sections, Window Schedule, Electrical Demand Calculations and Notes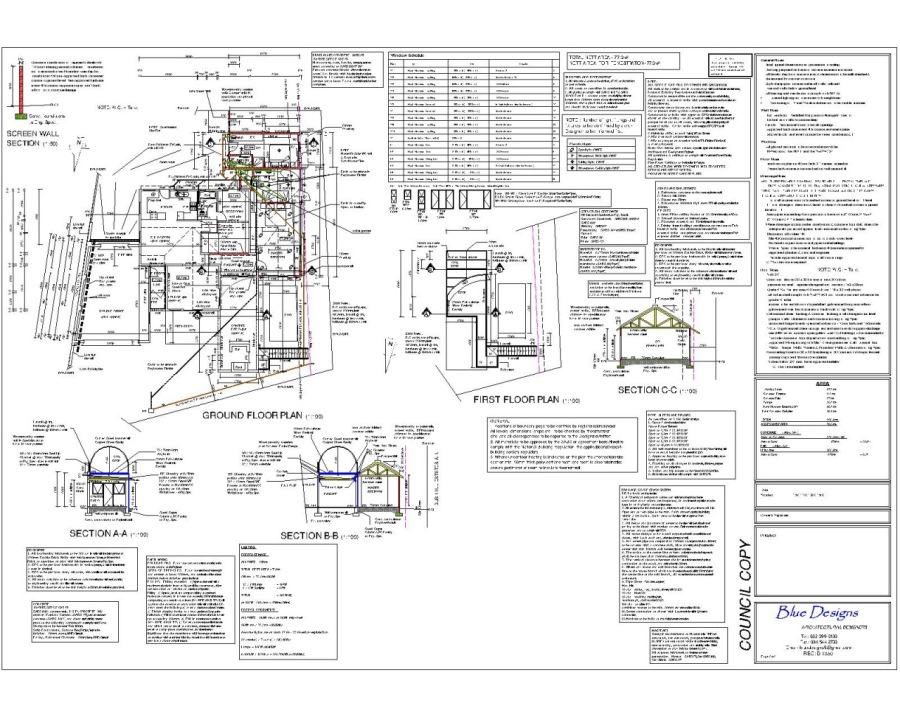 Page 3 Elevations, Water Layout, Water Demand Calculations & Notes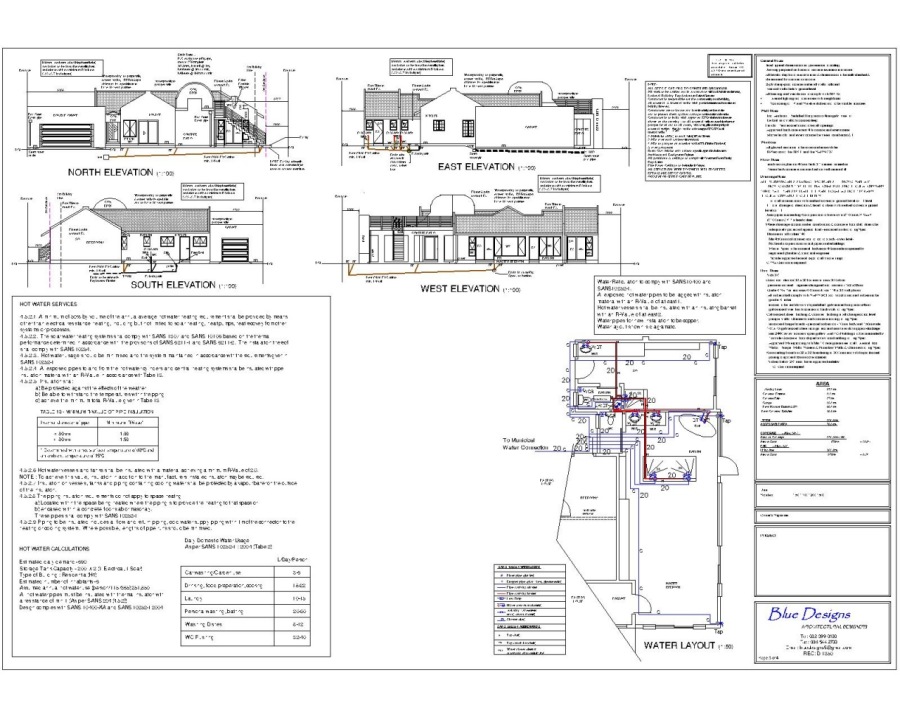 Page 4 Sectional Elevations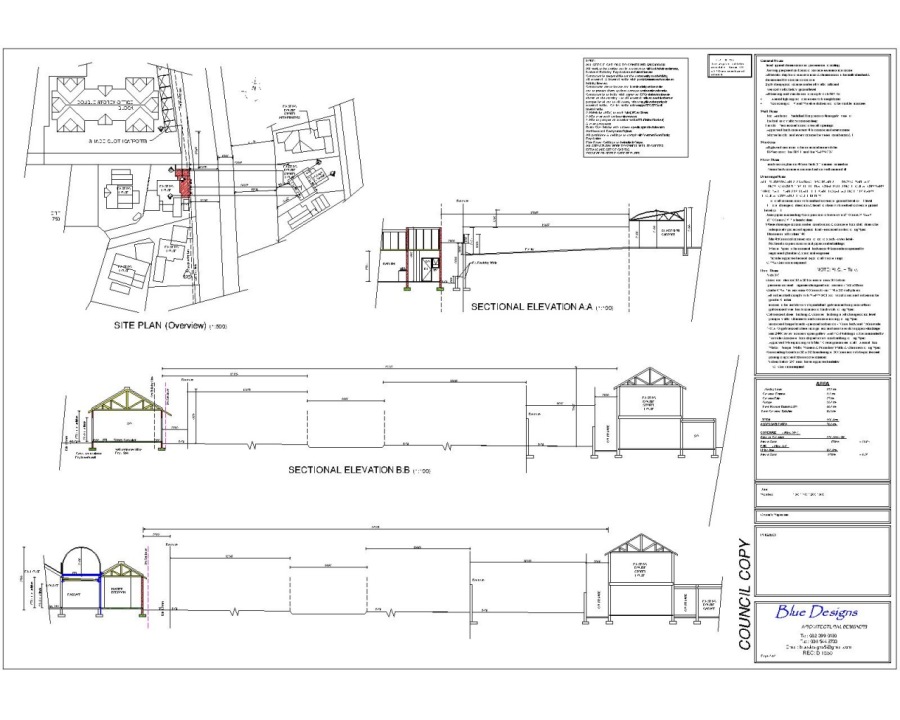 As I said earlier there are lots and lots of very competent Professional Architects and Designers available, just please make sure you work with someone who knows what they are doing! 
It's 'penny wise pound foolish' to skimp on getting your plans drawn up!  Not only will badly drawn plans cause delays at Council and Cost over-runs, incorrectly drawn and executed plans lead to bad building and that could be dangerous...  After all you wouldn't get a student doctor in his/her first year to remove your tonsils or a mechanic to fix your teeth!


I hope that this article will help you make an informed decision when it comes to hiring an architect or designer for your building project.  If you need help with plans that are 'stuck' at Council or you would like to arrange an appointment with me to discuss a project (new building, renovations/additions or 'As Built' structures needing plans please let me know.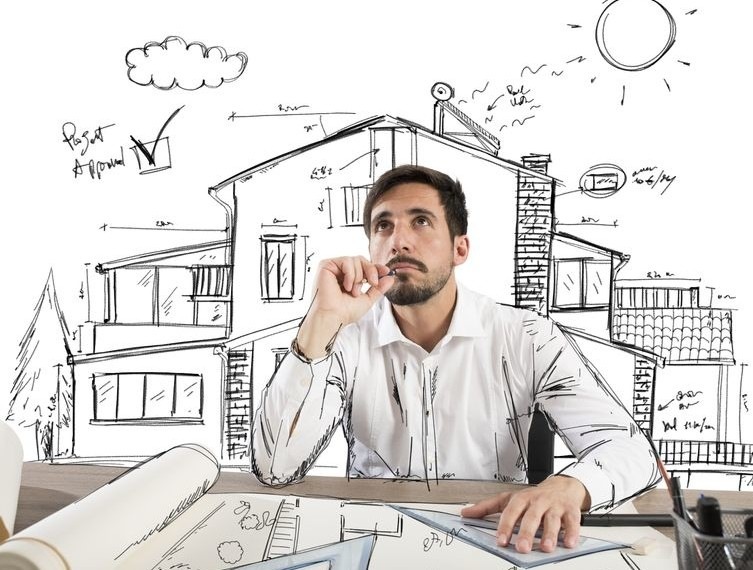 I have a Free E-Book for you - 
How to Prepare For Your Design Project - how to Create a Design Brief before hiring your Architect/Designer 
It's full of helpful tips - after all a good working relationship and a good brief with your Designer is key!
You can order it here -

Free E-Book - How to Prepare For You Design Project
Further reading -

What you Should Expect from your Architect/Designer
Who's Better an Architect or a Designer?

Getting Building Plans Approved

Why it's Never a Good Idea to Build without Plans or Planning Permission
Considering Buying / Renovating a Heritage Home? Pros and Cons
How to Plan your Heritage Home Renovation
and How Does my Design Process Work?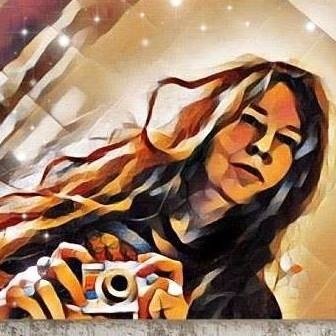 Call Claire +27 82 399 0180 /  
Whatsapp - +27 66 232 3776

bluedesigns5@gmail.com

I love Architecture. I think it's vital to talk about all aspects of Architecture - whether it be planning, construction, design or green building. I have written 3 E-Books & over 110 articles. Please feel free to let me know if you have any queries regarding architecture, planning & construction & I will assist you.
I am originally from the UK and moved to South Africa in 1999.  I started Blue Designs in 2004 after working as a driver for Avalon Construction on a luxury home in the Featherbrook Estate.  In my spare time I am an artist and writer (The Naked Architect - I believe in laying 'bare' the mysteries of Architecture and the Planning Process - and no I won't be taking my clothes off!)
https://www.bebee.com/group/the-naked-architect  & 
https://www.facebook.com/groups/258263907906727/ ).
Other Articles I have written include :-
Building Green?  Here are some tips.
Common Mistakes People make when Designing a House
The Advantages of Sustainable Building
Renovation vs New Construction - which is Greener and Better for the Environment?

Bizarre Buildings Part Two - Space Age Fantasy
Weird and Wonderful Buildings Part Three - Three Buildings that make Music
Please follow me on :-
https://www.bebee.com/bee/claire-cardwell 
https://twitter.com/ClaireCardwell

https://www.linkedin.com/in/claire-cardwell-ab438a17
https://www.facebook.com/bluedesignsarchitects/
#Architecture  #Architect  #Clairecardwell  #Clairelcardwell  #Bluedesigns  #Bluedesignsarchitecturaldesigners  #Architecturaldesigner  #Design #thenakedarchitect #nakedarchitect #southafrica #houseplans #howtogetbuildingplansapproved #buildinglinerelaxation #council #planningpermission #sacap #sacapsa #buildingplanapproval #bylaws #nationalbuildingregulations #NBRs #SANS10400 #southafrica #johannesburg #joburg
You may be interested in these jobs
---

Yoco Technologies

Amsterdam, South Africa

SOUTH AFRICA, AMSTERDAM, EMEA (REMOTE) · Yoco is on a mission to help the businesses of tomorrow get started, and get paid - be a part of the team that changes financial services in Africa. · Curious. ...

---

Telesure Careers

Gauteng, South Africa

Job Functions Information Technology,Monitoring & Evaluation · Industries Insurance · Specification · Solutions Analysis · Develop innovative solutions by integrating and analyzing complex and diverse ...

---

Sandi Crowther Recruitment

Durban, South Africa

Key areas of Responsibility: · Liaising with buyer regarding all aspects. This includes briefing/sample making/costings/ techpacks/ orders/delivery dates/ fit samples / PP samples / bulk deliveries · ...