5 years ago · 2 min. reading time · visibility ~10 ·
The Inconvenient Truth about Consciousness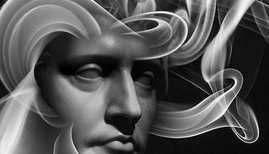 Human consciousness is universally recognized as a function of the organ referred to as the brain. And while mental and emotional function has been correlated with some components of neuro-anatomy and neuro-physiology, the phenomenon of cognitive consciousness has not been neatly bedded down insofar as the model of the human brain is concerned.
This is illustrated by two seemingly unrelated scientific observations which throw a spanner in the works of conventional neuro-science.
The first case is that of Pam Reynolds who underwent the clipping of a cerebral aneurysm. Due to the nature and position of the aneurysm, the following measures were implemented to facilitate the procedure:
1.Deep general anaesthesia
2.Eyes taped shut
3.Induced hypothermia
4.EEG monitoring to confirm flat line (devoid of cerebral activity) throughout the procedure
5.Continuous auditory evoked potential with ear plugs in place – confirmed zero neuro-electric activity throughout the procedure
6.Cessation of cerebral blood flow just prior to and during the clipping phase
Despite this, the patient was later able to describe the instruments used and repeated the conversation that took place between the surgeons just prior to the clipping, when all the above measures were fully implemented. The timeline of the patient's subjective experience referenced to actual events indicated clarity of consciousness when the records show zero neurophysiological activity.
The second observation relates to the phenomenon of terminal lucidity. Nahm et al describe a large sample of patients with advanced neuro-degenerative conditions, most of whom had documented involutional tissue loss (atrophy and/or multiple infarct pathology) and chronically compromised cognitive function but who regained near normal cognitive function just prior to death.
Clearly there is more to consciousness than merely a mechanistic, organ-based function. Perhaps these observations are too inconvenient to incorporate into our neat neuro-scientific package. However if we are to remain authentic as scientists then at some stage we will have to engage these inconvenient truths. And the inconvenience gets a whole lot worse…. because if consciousness is not localized to the brain, then does it persist after physical brain death? And so the plot thickens … As neuro-scientists we may well have to take a course in quantum physics to find the missing parts of our model!
References
www.near-death.com/experiences/evidence01.html

Nahm, M., Greyson, B., Kelly, E.W. & Haraldsson, E. (2011). Terminal Lucidity: A Review and a Case Collection. Archives      of Gerontology and Geriatrics. Doi:10.1016/j.archger.2011.06.031
Post-script:
The merits of the Reynold's case have been debated in the medical and other scientific literature for several years. The battle lines have been drawn, as expected, between those who are prepared to extend the neuro-scientific model and those for whom the implications of the case are just too inconvenient to integrate. Just to give you a taste of the intensity of the ongoing 'conflict' see -   
Copyright reserved - Ian Weinberg 2016
You have no groups that fit your search