3 years ago · 1 min. reading time · visibility ~10 ·
Inspirational Bee Quotes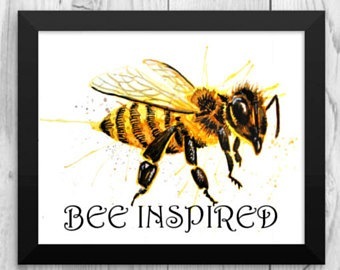 I looked back at a series of interviews Sara Jacobovici did last year with a few Bees. At the end of each interview, she asked each person to share a quote that inspired them. Now I must say I am usually not a big fan of inspirational or motivational quotes, but I actually found this selection very uplifting because they were chosen by people I have come to know here on BeBee. A short and I hope an encouraging read.
Big success does not come without big challenges.

Ali 🐝 Anani, Brand Ambassador @beBee
Failure is a stepping stone to success. 

Ali 🐝 Anani, Brand Ambassador @beBee
A smile on my face does not mean the absence of problems, but the ability to be happy over these.

To know everything we need to know very little. But to know that little we need to know a damn lot! - Gourdjieff

The climb is tough, but the view from the top is worth it.

I will prepare and someday my chance will come. - Abraham Lincoln

Pressure is a privilege. - Billie Jean King

If you change the way you look at things, the things you look at change. - Wayne Dyer

Netta Virtanen
Carpe Diem  - enjoy the day, trusting as little as possible in the future.
Live as if you were to die tomorrow. Learn as if you were to live forever. - Mahatma Gandhi

Brigette Hyacinth
Unless we change direction, we are likely to end up where we are headed. - Chinese Proverb

It is not the critic who counts; not the man who points out how the strong man stumbles, or where the doer of deeds could have done them better. The credit belongs to the man who is actually in the arena, whose face is marred by dust and sweat and blood; who strives valiantly; who errs, who comes short again and again, because there is no effort without error and shortcoming; but who does actually strive to do the deeds; who knows great enthusiasms, the great devotions; who spends himself in a worthy cause; who at the best knows in the end the triumph of high achievement, and who at the worst, if he fails, at least fails while daring greatly, so that his place shall never be with those cold and timid souls who neither know victory nor defeat. — Teddy Roosevelt

Bee inspired.
"
You have no groups that fit your search