House Chidi, Copperleaf Golf Estate, South Africa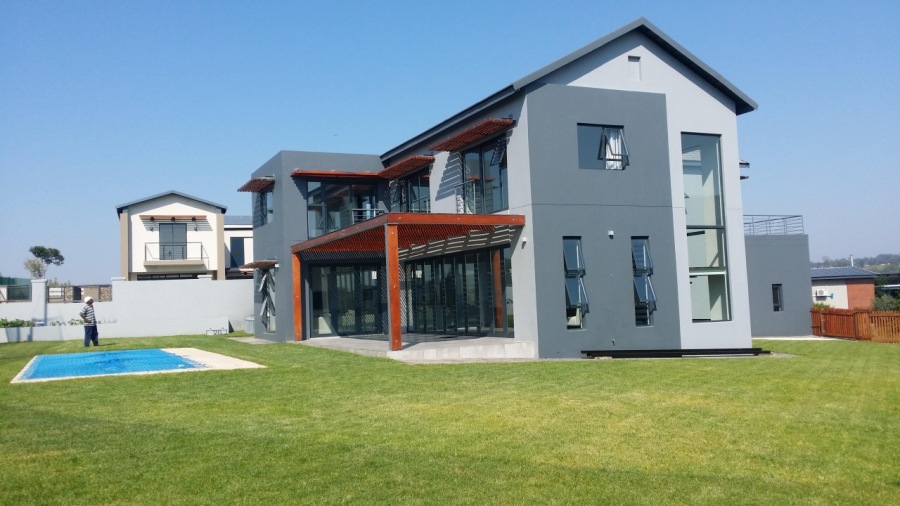 The Story of House Chidi, was a long one, in fact both my Client and I will both agree, it was hard work getting this house through the planning process.
However with perseverance (& a wee bit of the luck of the Irish French and some fast talking by Chidi and his lovely wife), we finally were able to submit the plans for this house for approval at Centurion Town Council in Pretoria.  The house is actually credited to an Architect called Bill Ellis, I had to sign over the work to him at the last minute.  At this stage I did not care, the end was in sight (or is that site?).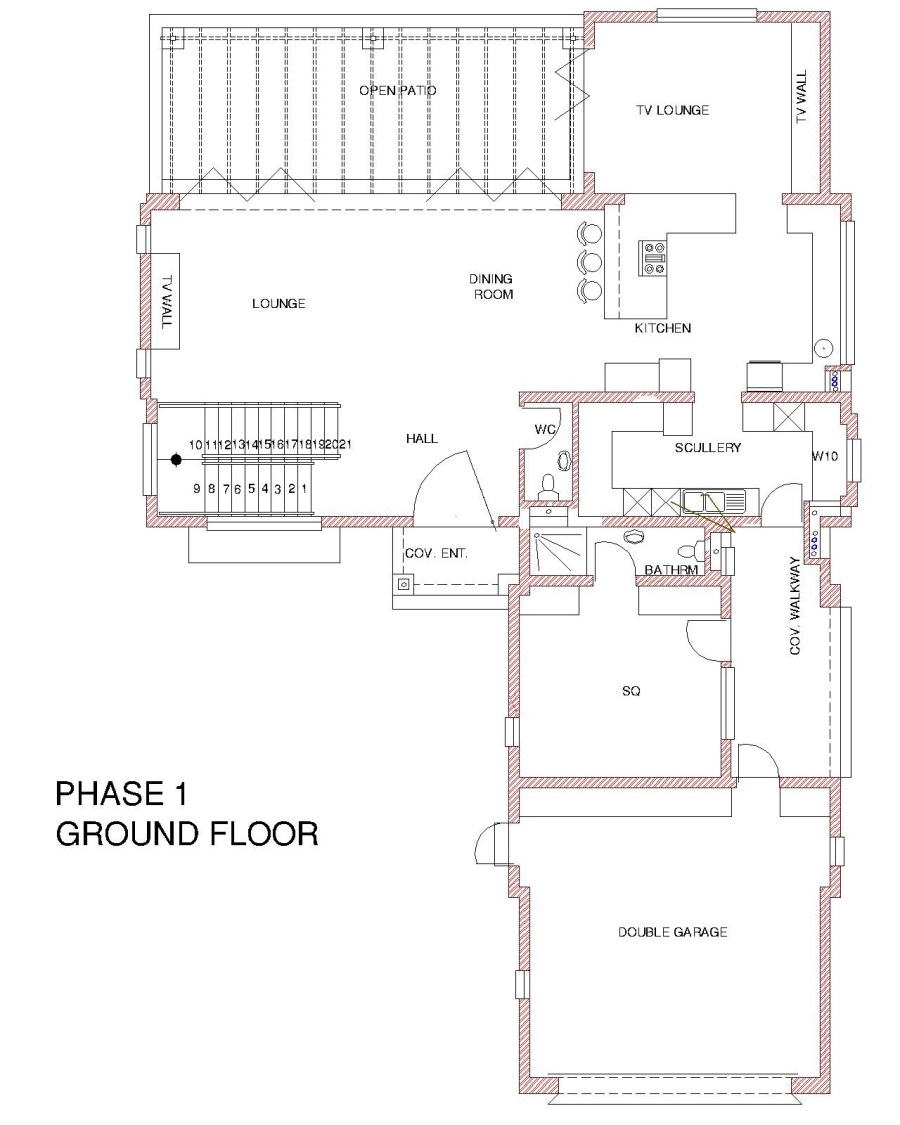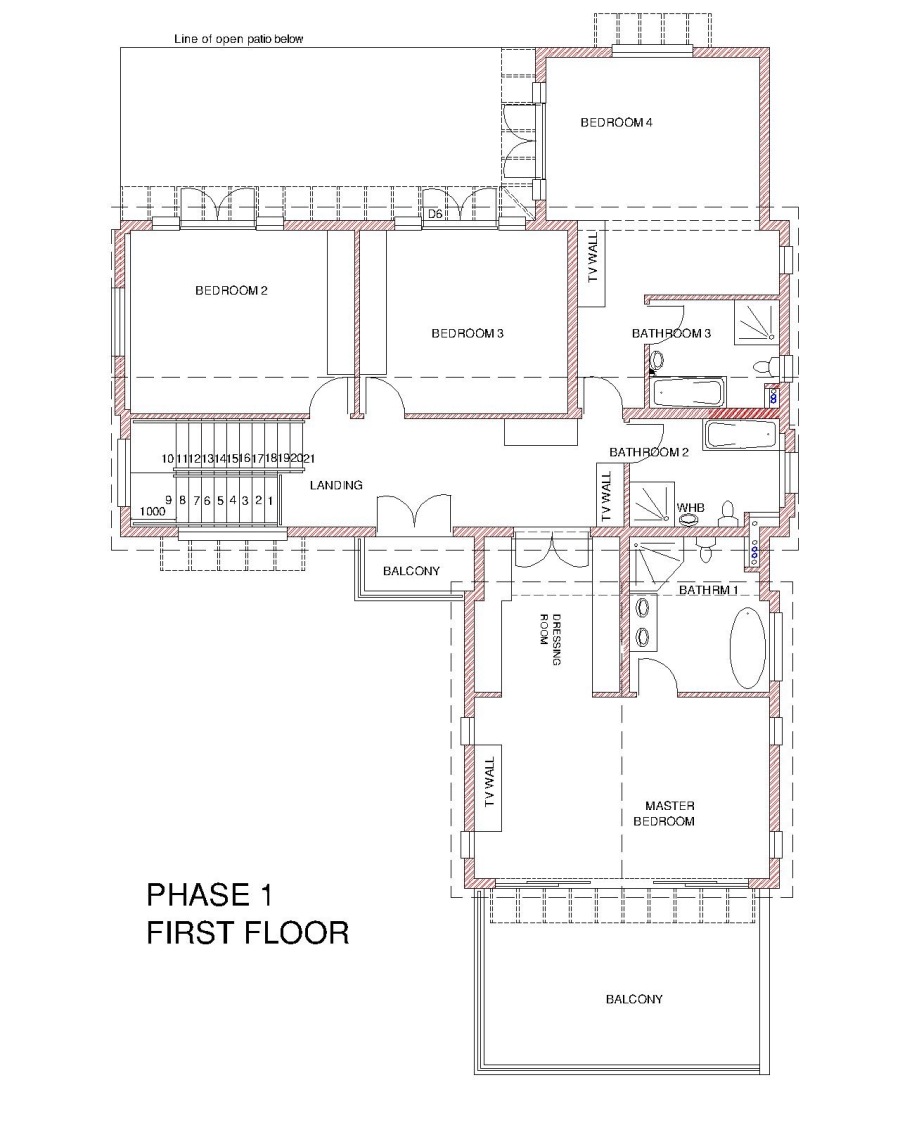 The House was finally approved through both Estate and Municipal approval in July 2016, when the Occupation Certificate had been issued. 
I spoke to Chidi last weekend at 4:30 on a Saturday afternoon.  He was good enough to take the call...  Anyway when I told him of the logistical reasons for me not bringing around that bottle of champagne, he graciously agreed to send me some pictures.  I think Chidi is a better photographer than me though (and he definitely has a better camera!).
Here is Chidi with me on a Site Meeting :-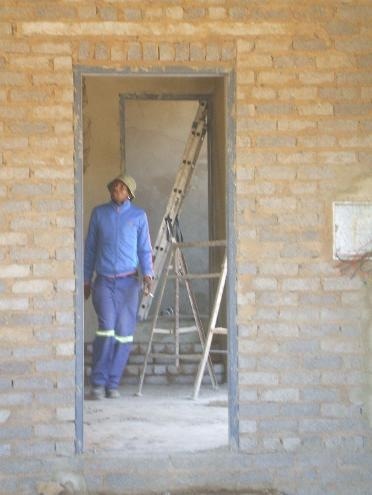 Chidi is an Engineer and works for a rather large Engineering Firm, an international one.  His wife is a professional quantity surveyor and also works for a big company.  They have two beautiful daughters who were essentially born during this whole process!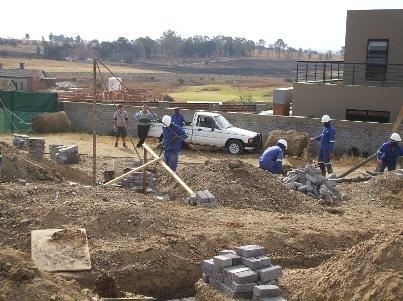 We spent a lot of time on site.  This is the view looking down to the street, about halfway up the site.  There is quite a steep drop.  The foundations took a lot of time.  This was great though as I got to drive around in my car Blue Designs (aka Larry the Lounge Lizard) and hang out with the boys in Blue on a Building Site.
I don't really have appropriate site clothing, although a hard hat, blue suit (with those nifty fluorescent bands on your arms and legs) and a decent pair of boots are on my list of things I have to buy asap.  I had a rather nice pair of boots (that were not leather, but they looked like leather), quite new and I trashed them on this site!  And guess what Mr Health and Safety - I did not come to any harm at all.  Not even a paper cut!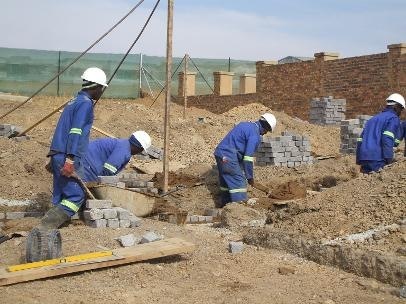 It was exceptionally hot and there was very little shade.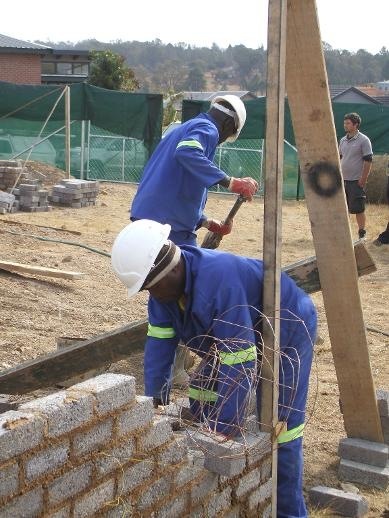 It was hard though, the foundations towards the top of the property (by the Golf Course) were considerably deeper than what was thought.  There was a problem with our Geo-Technical Information.  The Municipal, National Archive and Estate surveys were all incorrect.  Chidi even hired his own Land Surveyor.
The Foundations became quite expensive.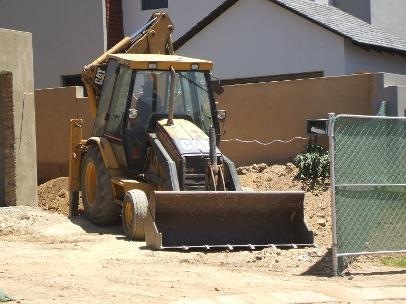 It was extremely hot about 37 degrees centigrade (98.6 degrees Fahrenheit) in the shade and we in full sun, on a building site on a golf course.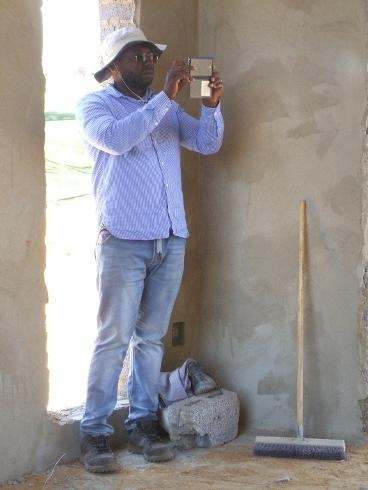 Just want to make something absolutely, abundantly clear.  Chidi is a tall man, about 6'2" tall.  These are high, high ceilings - 3.6m in some places, this was so we did not have to have steps on the first floor as well as the ground floor.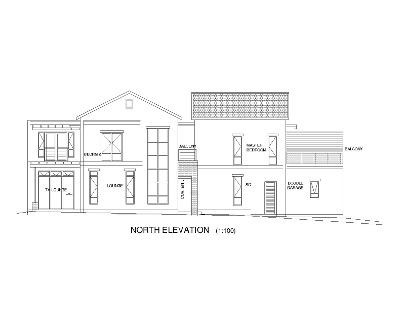 This tidied up and rather grainy side elevation will give you more of an idea of the level changes from back to front (left to right).
The Golf Course side is on the left and the street is on the right.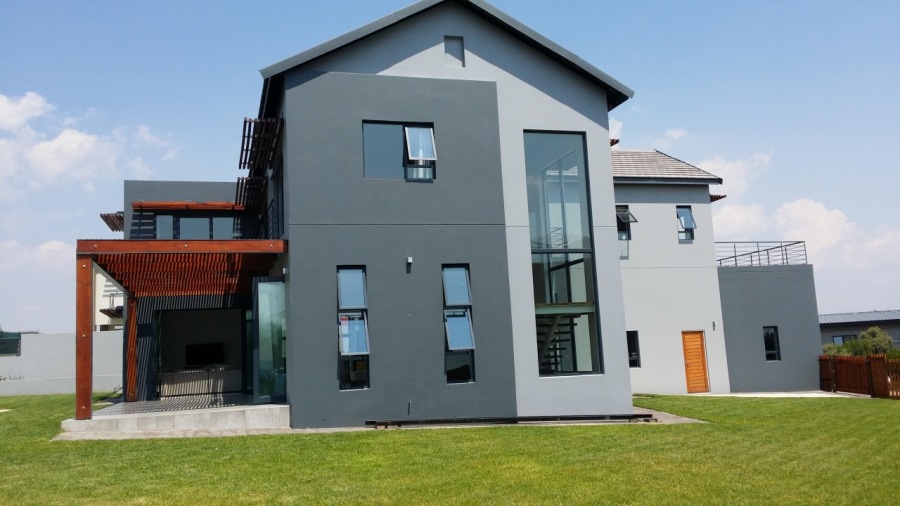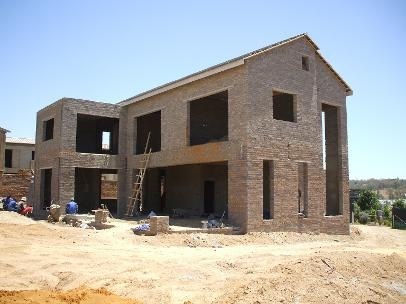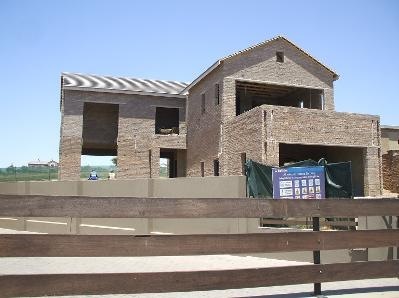 Finally the main superstructure of the house was almost completed.
Here's the view of the Golf Course, complete with nets.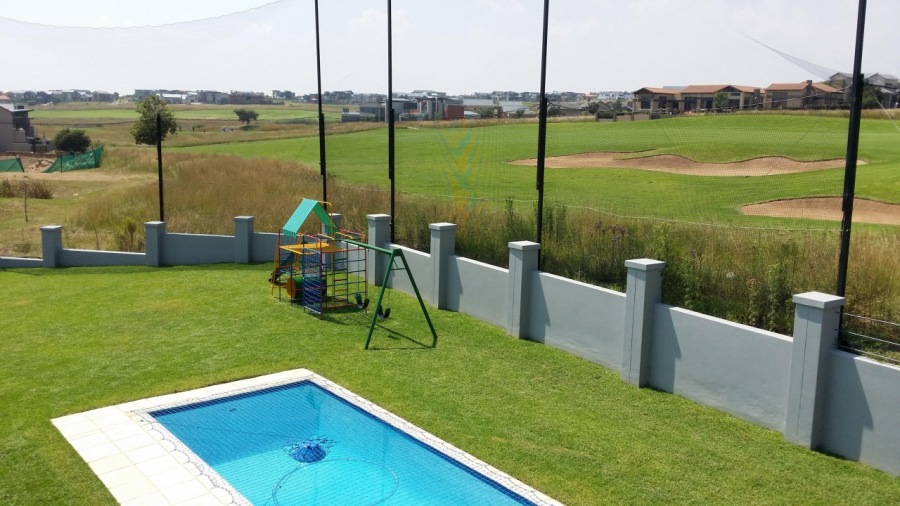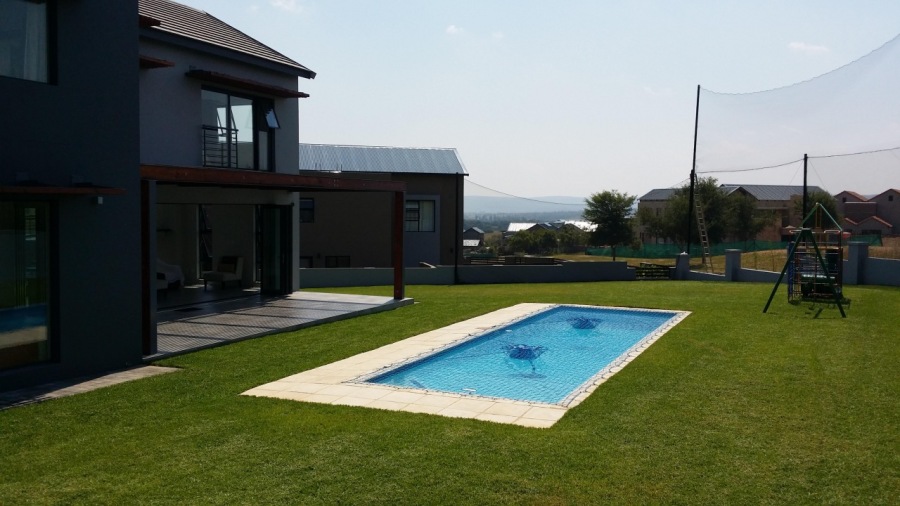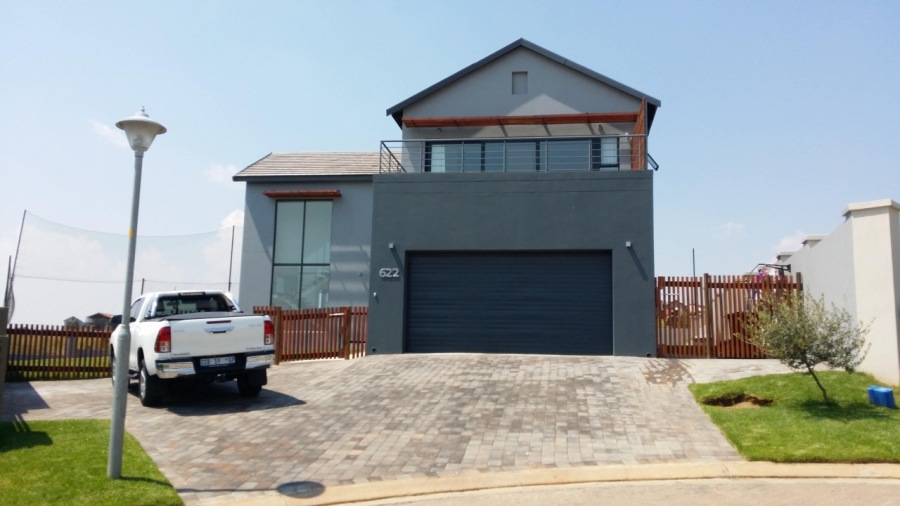 Finally it's done!
Thank you so much Chidi for sending these lovely pictures through!  As you know I don't do many interior shots of the super structure, I am not an interior designer!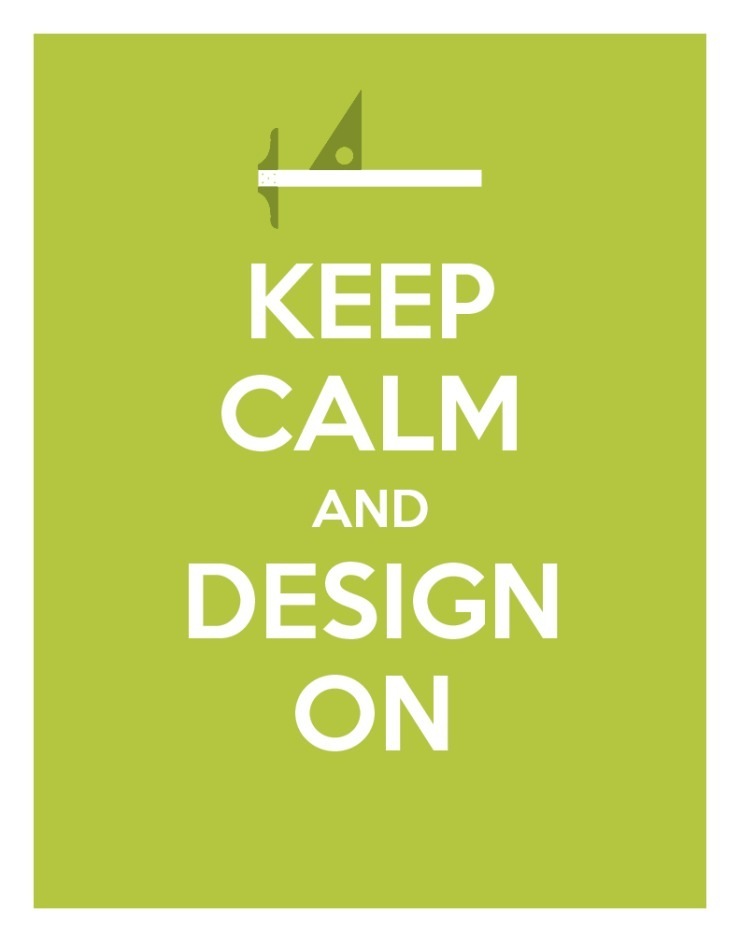 Each house I do is 'off the cuff' I do not repeat designs or copy other designs.  I design with the Client's needs and the site conditions in mind.
http://www.bluedesigns.org/copperleaf-golf-estate---house-chidi.php

I would like to thank the following people for all their assistance during the design, planning and approval process - Louise Pretorius (Aesthetics Committee, Copperleaf Golf Estate), Dieter Kehlert (Structural Engineer I consulted whilst preparing the drawings),  Bill Ellis, Marianna de Beer and Diana Ewert (LMD Plan Runners) who handled Centurion Town Council for me and Jason Evetts who was a final year architecture student at the University of Johannesburg and a qualified architectural designer & draughtsperson registered with SACAP.  Jason was working with me at the time as a Freelancer. Call Claire - +27 82 399 0180 / + 27 66 232 3676 (Whatsapp)
bluedesigns5@gmail.com
I love Architecture. I think it's vital to talk about all aspects of Architecture - whether it be planning, construction, design or green building. I have written 3 E-Books & over 110 articles. Please feel free to let me know if you have any queries regarding architecture, planning & construction & I will assist you.
I am originally from the UK and moved to South Africa in 1999.  I started Blue Designs in 2004 after working as a driver for Avalon Construction on a luxury home in the Featherbrook Estate. In my spare time I am an artist and writer.
I've started two new Hives - please feel free to join!
https://www.bebee.com/group/design-sustainability-network
https://www.bebee.com/group/the-naked-architect
Other Articles I have written include :-
Building Green?  Here are some tips.
Common Mistakes People make when Designing a House
The Advantages of Sustainable Building
Considering Buying or Renovating a Heritage Home?  Pros and Cons
Renovation vs New Construction - which is Greener and Better for the Environment?
Bizarre Buildings Part Two - Space Age Fantasy
Weird and Wonderful Buildings Part Three - Three Buildings that make Music
Please follow me on :-
https://www.bebee.com/bee/claire-cardwell 
https://twitter.com/ClaireCardwell
https://twitter.com/BlueDesignsArch
https://www.linkedin.com/in/claire-cardwell-ab438a17
https://www.linkedin.com/in/blue-designs-architectural-designers-557a2318
https://www.facebook.com/bluedesignsarchitects/
#Architecture  #Architect  #Clairecardwell  #Clairelcardwell  #Bluedesigns  #Bluedesignsarchitecturaldesigners  #Architecturaldesigner  #Design #Copperleaf  #coppperleafgolfestate #Golfestate 
"""""""""""""""""""""
You may be interested in these jobs
Found in: Talent ZA± - 5 days ago

---

Old Mutual Finance Ltd

Cape Town, South Africa

To provide excellent client service and financial education and to achieve targets through the marketing and selling of Old Mutual and other products. · The incumbent is individually accountable for achieving results through own effortsMeets monthly sales targets in terms of lend ...

Found in: Talent ZA - 18 hours ago

---

PPD

Pretoria, South Africa

PPD, now Thermo Fisher's clinical research business, is a leading global contract research organization providing comprehensive, integrated drug development, laboratory and lifecycle management services. · At PPD, we are passionate, deliberate, and driven by our purpose- to impr ...

Found in: Talent ZA - 3 days ago

---

Salt Employee Benefits

Johannesburg, South Africa

Full time

SALT EB is seeking to appoint a candidate who is results-driven, passionate about service delivery and thrives under pressure to lead, manage and control the activities of the administrator's complaints and queries resolution unit within the Legal Risk & Compliance Department. · ...