Averting the tumble
From the domain of cognitive psychology emerges an item of interest which I believe may have a far greater application than that which defined its origins. The Dunning-Kruger effect refers to a cognitive bias in which those with a low objective performance tend to overestimate their abilities in a self-reporting process. When analysed statistically in a group, those in the bottom 25% (quartile) view themselves as being comparable in performance to the top quartile of the group. Additionally, those who manifest this bias are unaware of themselves and their inefficiencies. In other words we have identified a group of individuals who are not merely ignorant but are ignorant of their ignorance!
I would suggest that the absence of self-awareness to this degree is the consequence of an intrinsic need to bolster oneself in order to fend off lurking self-esteem issues. Since most biases date back to the nurture period, we can safely conclude that the individual in the lower quartile has experienced significant nurture deprivation. In this nurture situation recognition and relevance would need to be restored by appeasing the caregiver with favourable behaviour – reward through conditional behaviour. Thus develops the external locus of control wherein all behaviour is driven and moulded by the requirements of the external environment in order to remain recognised and relevant. Consequently this behaviour is driven perpetually by a deep seated fear of being disregarded and seen to be irrelevant. The risk of exposure of any personal weakness ensures that the authentic self is kept tightly under wraps. In this way, self-awareness is all but snuffed out.
Growth and evolution of self requires self-awareness of one's flaws. In fact essential for growth is the acceptance that one will mess up from time to time and experience disappointment and possibly even temporary rejection. But ultimately it is not how you fall that will determine success but how you rise up and prevail. In this way both ability as well as self-awareness are enhanced. Interestingly the studies performed to identify the lower quartile individuals exhibiting inflated abilities showed that those in the highest quartile exhibited the reverse bias – they subjectively saw themselves as performing poorer than their objective evaluation! Perhaps the experience of multiple failures in the path to excellence creates those other essential qualities for success – humility and gratitude.
Here is the best illustration that I could find which describes all the components of the Dunning-Kruger effect (Copied from the website waitbutwhy.com).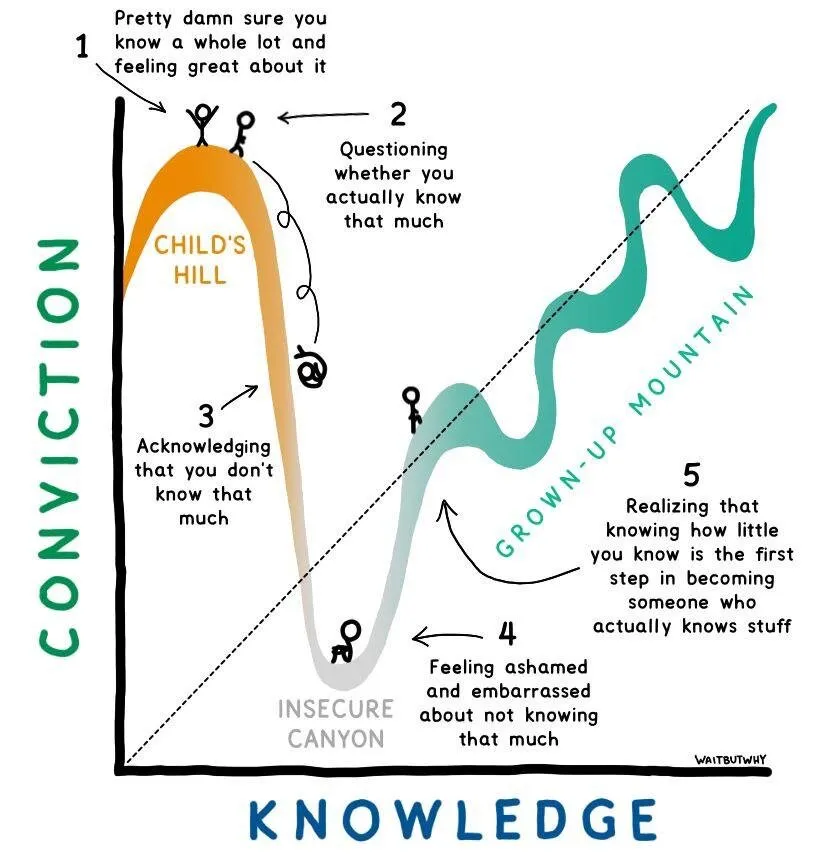 The bottom quartile with the exaggerated performance spend their existence securing and defending their position atop Child's Hill. They dare not allow themselves a passing peak into their murky depths since this will surely result in the painful fall into the Insecure Canyon. Unfortunately there are those who crash down into the Insecure Canyon and have neither the means nor the resilience to effectively ascend the slow growth up Grown-up Mountain. They will be doomed to repeated ineffective attempts to ascend, ala Sisyphus, eventually succumbing to hopeless-helplessness and a feeling of irrelevance in Insecure Canyon. On the other hand, those who effectively negotiate Grown-up Mountain become our successful upper quartiles.
Getting back to Child's Hill: These are individuals who will defend their turf with all that they have since instinctively, even without peaking into themselves, they recognize that forsaking their position will result is a crashing fall into oblivion. Invariably like-minded defenders will band together for safety and support. Being influenced by an external locus of control, they will appease the stronger and more influential prevailing forces at any given time. They are averse to identifying with any individuals, concepts or behaviours which may jeopardise their safety. In fact they will take an active antagonistic stand against such factors. They fear appearing different from their co-defenders for this will surely result in excommunication and the painful crashing descent into the Insecure Canyon. Their favourite weapon is to discredit all that challenge them, for to successfully discredit is to render the challenge ineffective and obsolete. Collectively these are our lower quartiles - ignorant of their ignorance. These are the defenders of the Covid-19 narrative. In the obsessive defense of their position they have snuffed out all possibilities of peaking into the murky depths of an alternative reality, for this will inevitably result in the painful crashing descent into the Insecure Canyon.
Notes
For those versed in the Triangles Model - you may recognize the Bravo archetype as defending Child's Hill, the Alpha/Alpha-Bravo archetype as ascending up Grown-up Mountain and the Charlie archetype as occupying Insecure Canyon.
Copyright reserved - Ian Weinberg 2023
Life Lessons
You may be interested in these jobs
---

MiWay

Midrand, South Africa

Who are we? · Grade 12/Standard 10/NQF Relevant FAIS and RE qualification Experience Required · Grade 12/Standard 10/NQF Relevant FAIS and RE qualification Experience Required · Extensive experience w ...

---

Royal HaskoningDHV South Africa

Western Cape, Cape Town, South Africa

Full time

Royal HaskoningDHV South Africa's job vacancy, Career and Recruitment · Job title : Public Health / Fire Engineer jobs in Western Cape · Job Location : Western Cape, Cape Town · Deadline : December 18 ...

---

Ikwezi Mining

Midrand, South Africa

We are seeking a professional Executive Assistant with the primary responsibility of supporting the Chief Executive Officer (CEO), provide support to the executive team as directed to ensure that comp ...