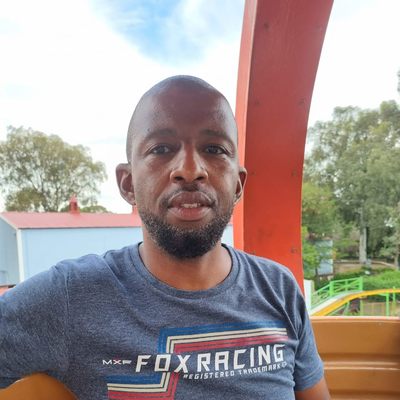 About me:
Mbuso started his sales-driven career in 2005- very strong sales profile and he has always worked towards sales targets that he exceeded
He has won several Awards for "Sales person "of the month at Toyota 
He is a far above average communicator, efficient in English, Afrikaans as well as all African languages– which is a rare skill and a huge advantage in Sales and a client centric role. 
Mbuso's exceptional strength and talent is his interpersonal skills, being highly people-driven, vibrant and ability to relate to people very well telephonically and face-to-face. 
He is a person to be highly professional, offers strong business -acumen and offers highly developed customer care skills.
The above strengths lead to success in his Sales roles
His proven track record of Sales shows the ability to be very driven, generating own leads and strong business development in very competitive and tough markets. 
Mbuso has predominantly earned commission based earnings, which also assures his self-motivated nature, to take ownership and ensure a good income monthly.
He is determined to exceed targets, take initiative and ensures closing of sales 
Computer literacy good 
The candidate excels in his current role, in Sales of vehicles, but as an estimator of cost and pricing to ensure profitability of the vehicle.
He has the responsibility to analyses all cost of all mechanical and other components to be replaced, sourced, negotiate the best possible price to maximize profit 
Mbuso therefore has good knowledge and expertise of all Parts across brands of motor vehicles
He has above average expertise in pricing and his competitors 
At the Toyota branch, he is one of two only skilled Sales consultants to estimate cost of all parts
Experience
Reason for leaving: Headhunted by Skills Excellence for better challenging opportunity at WAG
Employer:                                 Mc Carthy Toyota -Gezina branch
 Title:                                       Sales Consultant / Estimator 
                                                Used vehicles divisions- Automark
Period:                                      August 2010 to present 
Description of Duties
Sales of all Toyota Brands
Trade-ins of all brands of passenger vehicles
Valuation of parts and accessories 
Cost versus profit (expenditure on parts) 
Cost estimation of automotive parts to replace  
Ensure profit percentage 
Building and maintaining customer database by calling prospective customers
Daily, follow-up existing customers as per the company's schedule.
Promoting and selling vehicle units to meet sales target
Education
Education: 
Last school attended:                            Rabboni Christian Highschool 
Period:                                                  2000 Model C school
Qualification:                                        Grade 12
Subjects:
Afrikaans, English, Mercantile Law, Mathematical Literacy, Business Economics, Accounting, Economics 
Further Education/ Courses:
Institute:                                                TUT 
Course:                                                 Cost and Management Diploma
Due to financial constraints, did not complete 
Professionals who compete with Mbuso
Other users who are called Mbuso
Professionals from different sectors near Montana, City of Tshwane Metropolitan Municipality